Audiences all over the United States and United Kingdom know Simon Cowell as a tough but fair judge who never minces his words with contestants and has inspired fear and awe on Britain's Got Talent and America's Got Talent.
But Simon has his soft side, and this tough music industry veteran is a wonderful guy who has donated lots of money to children's and animal charities, included PETA and the Manchester Dogs' Home. Just this spring, Simon had a close encounter of the furry kind on Britain's Got Talent that left him completely overwhelmed with emotion.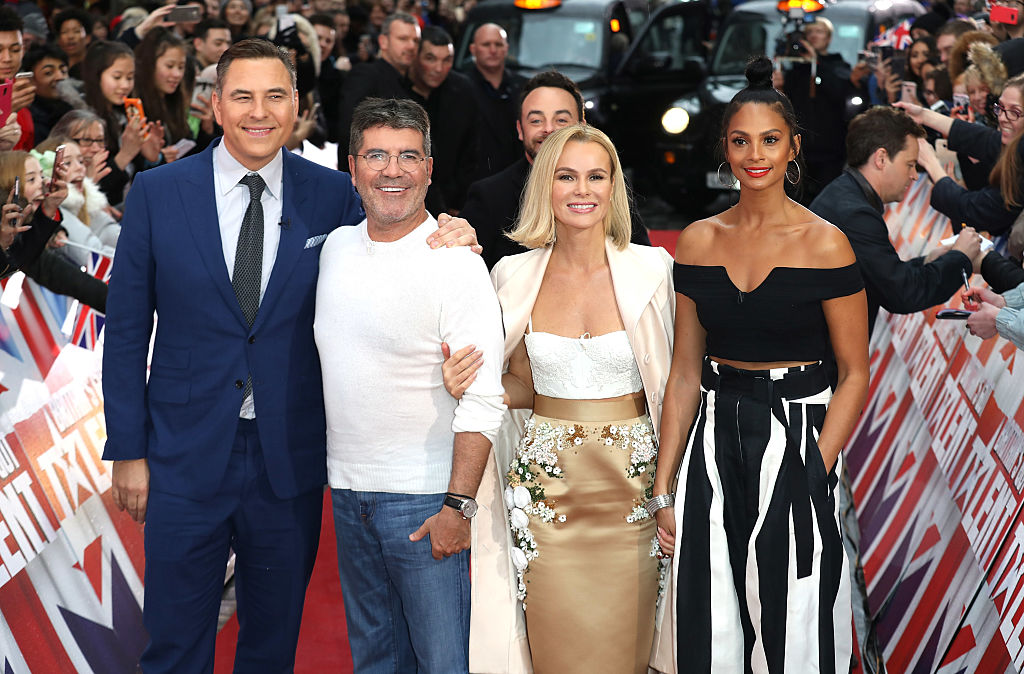 When former police officer Dave Wardell and his German shepherd Finn auditioned for BGT with an incredible mind-reading act, the audience and the judges were blown away by how well the two worked together. After asking judge David Walliams to write down a word on a notepad, Wardell then had him show it to Finn, and Finn only.
The former cop leaned down and listened to his K-9 and guessed the word, "table," with no problem. The audience was delighted and Simon's eyes went wide. He was clearly intrigued by the bond between this beautiful dog and his loving owner.
But Wardell went on to explain that Finn is no ordinary dog. "While everyone thinks their dog is special," he told the judges and audience, "Finn really is."
Wardell put together a moving montage that showed him and Finn, from the time they met when Finn was just a puppy. The pictures showed their incredible bond. As Wardell told Good Morning Britain, "I spent more time with Finn when we were working than I did with my family."
Then one fateful day in October 2016, the two faced the greatest threat of their lives. While chasing a criminal in Stevenage, Hertfordshire, Finn managed to pull the suspect down from a fence he was trying to scale to escape. As the car thief was trapped, he pulled out a ghoulish 10-inch knife and proceeded to stab Finn and attempted to kill Wardell.
Throwback Thursday #TBT
Look at how little I am! I can't believe I'm 10 years old now..

Show me pictures of when you were all pups, I love seeing how grown up we all are now 🐾👮🏽‍♂️ #FabulousFinn #PDFinn pic.twitter.com/Cl3PwQcHwh

— Fabulous Finn (@K9Finn) May 9, 2019
Despite having been gravely wounded, Finn jumped out in front of the knife, preventing Wardell from being stabbed in the chest. Wardell was finally able to subdue the attacker and call for help. Despite the fact that Finn was bleeding profusely, he never let go of the criminal until backup arrived.
As Wardell's montage showed pictures of the dog, whose lungs were punctured and stomach muscles had been cut through, Simon Cowell's eyes were full of tears. The audience was just as broken up as Wardell's words appeared on screen: "seeing my best friend on the brink of death just broke my heart."
Have a look at this link and have your say. https://t.co/alEKST0jSZ…

Tomorrow is the last day to have your say on behalf of our service animals in Scotland. #Finnslaw #FonnsLawScotland pic.twitter.com/f90EwfhluQ

— Fabulous Finn (@K9Finn) April 24, 2019
With the help of some incredible veterinarians at two different animal hospitals, Finn managed to survive. During his recovery, Wardell had a special bed made so he could sleep next to his best friend and comfort him when he needed it most.
This incredible dog made a tremendous recovery and was back policing in only 11 weeks, as Wardell told Good Morning Britain. The story touched Simon Cowell so much that, as reported in the Sun, he told the former police officer: "if I had golden buzzer left, I'd give it to you. When I hear about animal cruelty, especially dogs, it upsets me."
But Wardell didn't just wow the audiences and judges with the story and skills of his amazing dog; he's also used the story to make an important change to U.K. laws that will offer service animals the same protection as people. As Wardell describes on the website for "Finn's Law," in honor of his amazing friend, service animals that protect and save lives "will be viewed as the living, breathing, sentient beings they are."
An incredible victory for a dog who's got more than just talent!