If you've never heard of Darci Lynne Farmer, then where have you been for the last few years? Jump on the bandwagon! The 14-year-old Oklahoma native is an incredible talent in the niche art of ventriloquism (in fact, that's the reason she started in the first place), and she's by now a veteran on America's Got Talent.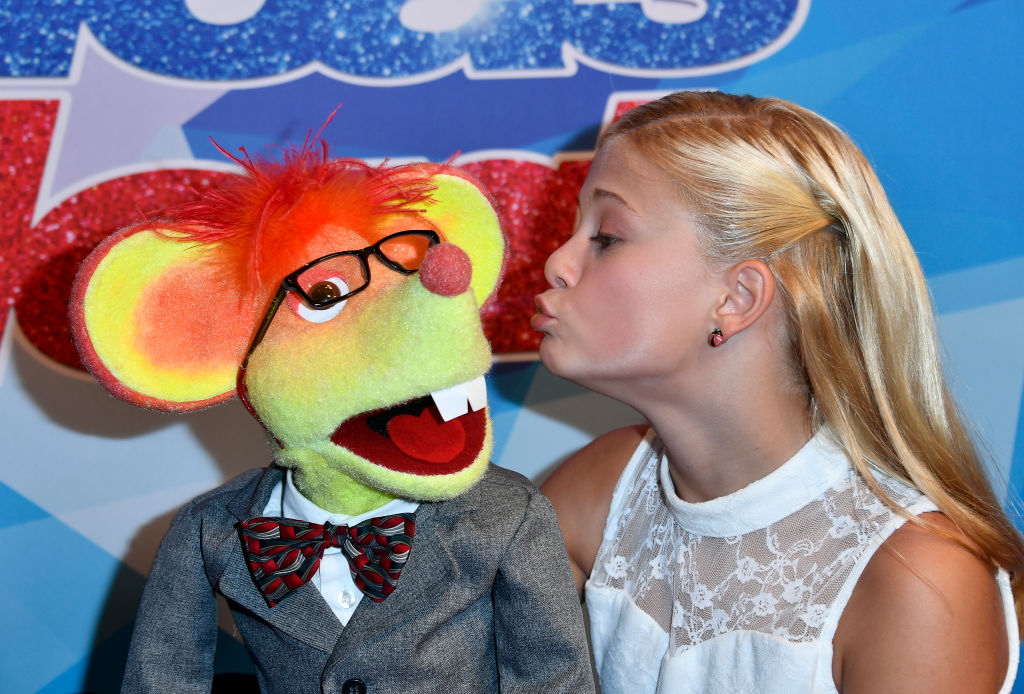 Darci became a viral sensation after her first appearance on the much-loved TV talent show in June of 2017, but did you see her groundbreaking performance just two months later? Young Darci returned to the AGT stage with a brand-new puppet and a stack of winning witticisms; it's a moment worth remembering.
The young golden buzzer winner took to the stage with a puppet co-star named Oscar, an endearing-looking yellow mouse with wire-rimmed specs and a shock of fluffy red hair. Oscar performed The Jackson 5's classic hit "Who's Lovin' You," but not before a jaw-dropping admission.
Oscar's show stealer came completely unprovoked. "I fell in love with Mel B," the sweet mouse whispered to his human companion. Darci humorously repeated the admission at full volume and the statement made judge Mel B all but leap out of her seat in delight.
Oscar seemed troubled by his forbidden love, however, joking, "I think she's afraid of mice!" Darci then pondered out loud whether their love was doomed because of Oscar's rodent status, but the sweet puppet assured her that it wouldn't be a problem. "Heidi was married to a seal!" he quipped.
Cue an extraordinary rendition of the classic pop heart melter from the smartly dressed mouse (although we all know it's Darci, and with her mouth closed no less!). The audience exploded in rapturous applause, and the judges gave the young talent a deserved standing ovation.
Then Mel B threw an unexpected comeback toward the besotted rodent on stage. "Oscar, I will date you," she insisted. Simon Cowell's retort was perfectly timed: "Oscar," he warned, "get a prenup!"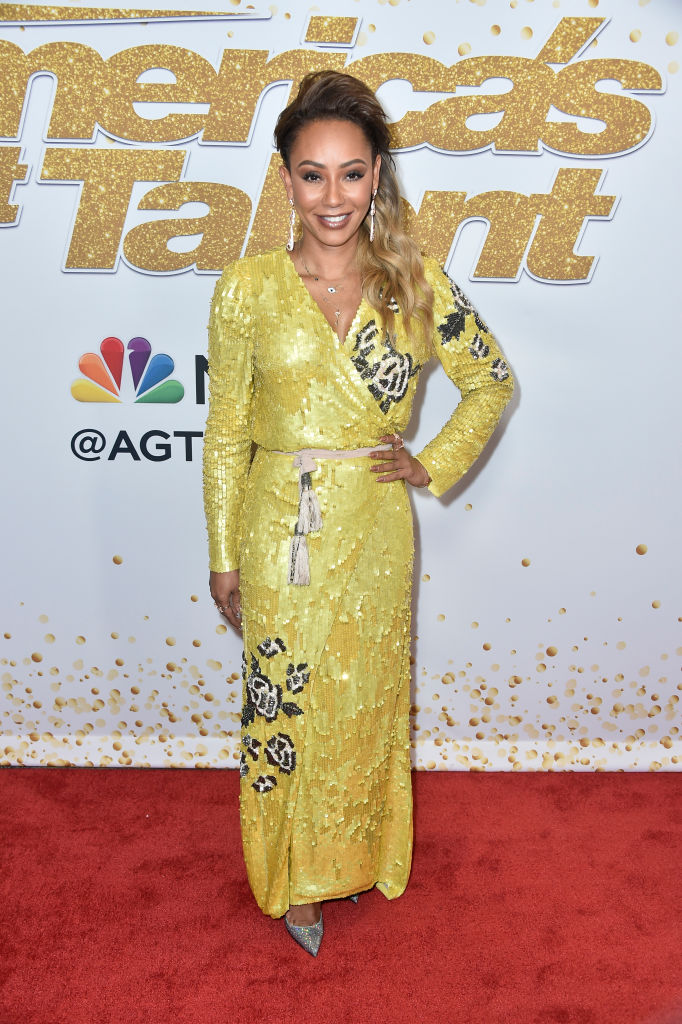 Mel B, smitten with both Darci's performance and her charming mouse friend, called Darci "out of this world." Simon followed suit with some epic praise of his own, telling Darci to "get ready for the big time, because it's coming your way."
Just two months previously, Darci had had her first taste of fame after bringing the house down with an amazing version of Ella Fitzgerald's haunting classic, "Summertime." But on that day, Oscar was nowhere to be seen. Instead, Darci stormed the stage with her adorable (and now iconic) rabbit puppet, Petunia.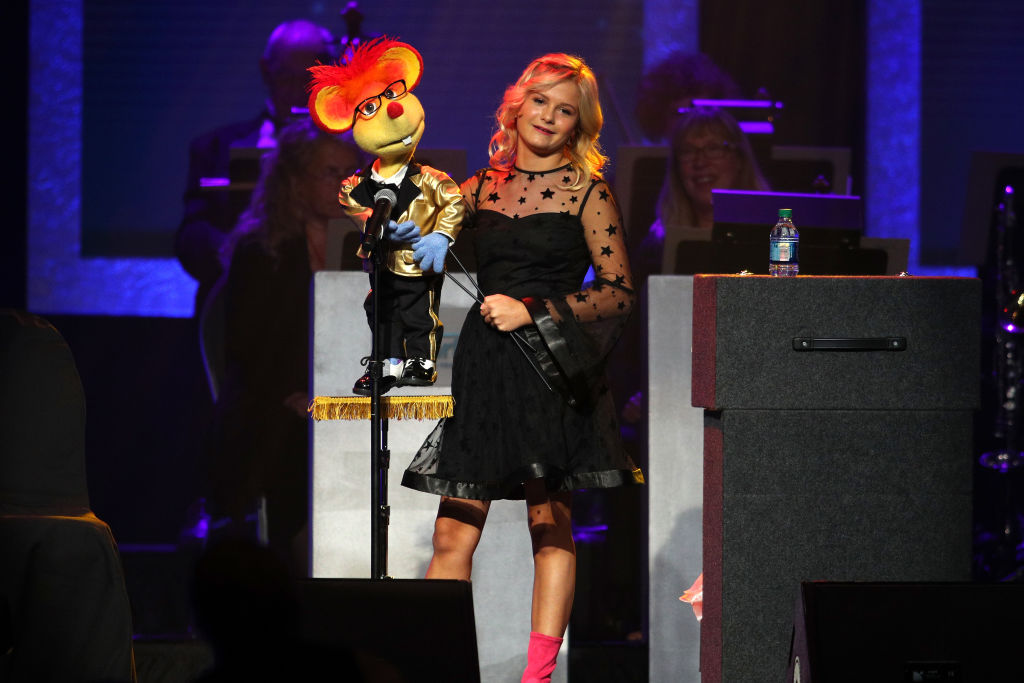 Darci seemed a little nervous before her act began, but as soon as the audience and judges hushed and the stage was hers, professionalism took over. Darci moved Petunia so expertly that it was hard to believe the sweet rabbit wasn't a real-life character.
The incredible gig went so well that not only did Darci receive her first standing ovation for her efforts, but judge Mel B leaned across the table and hit the oh-so-coveted golden buzzer. The young performer was reduced to ecstatic tears, and Mel B gained a protégée for life.
Mel B and Darci Lynne reunite backstage before the first live results show of the season!

America's Got Talent စာစုတင်ရာတွင် အသုံးပြုမှု ၂၀၁၈၊ ဩဂုတ် ၁၅၊ ဗုဒ္ဓဟူးနေ့
Darci and her forever champion chatted backstage a full year later to swap thoughts and catch up. "What's been going on?" Mel B asked. Darci shared her grueling but thoroughly exciting tour schedule before explaining how she keeps up with school work on the road.
And did you know that the young talent designs all of her own puppets? "Sometimes I see a character that I like," Darci explained to her coach, "and then I come up with a voice. It takes maybe a week, maybe five minutes."
"It's all different."
May the difference keep on coming, Darci Lynne! You are, quite frankly, amazing.