Multiple new laws went into effect in the past month in California that are meant to protect tenants. But some landlords say the state has become too restrictive for them, and they're taking their business elsewhere. 
"The rules are getting harder and harder here to comply with, and our long-term prospects are looking worse and worse," said Michael D. Pierce, president and co-founder of Prodesse Property Group, which manages residential properties throughout the San Francisco Bay Area. "It makes it harder for us to manage our assets and do it in an intelligent way." 
Pierce is investing in Colorado and Florida instead. "We're looking in other states, like many people," he said.
Dan Faller, a real estate owner and president of the Apartment Owners Association of California, said he's developing in Idaho and other states that don't regulate the amount of rent, deposits, or fees that landlords can charge.
"I used to provide housing for people in California," he said. "I do not do that anymore. Last year, I was probably involved in building 40–50 units out of state."
California's new housing legislation will be under great scrutiny in the coming year. The state's housing shortage and homelessness problem could both be impacted, for better or worse.
Various new laws in California aim to promote housing development and make housing more affordable and accessible. 
But on the other side, California's landlord associations have protested, saying the laws discourage housing development. The state has also increased its funding to help tenants sue their landlords.
The Laws
On Jan. 1, Assembly Bill 1482 took effect, capping rent increases at 5 percent annually, plus inflation, for properties 15 years or older. It also limits the reasons for which landlords can evict tenants, and mandates that the landlords pay for tenant relocation in some cases. 
Also on Jan. 1, Senate Bill 329 took effect, prohibiting landlords from discriminating against renters who use Section 8 or other government subsidies to pay their rent. 
Landlords have said that accepting such renters creates bureaucratic hurdles for them. For example, special inspections are required to participate in the Section 8 program, and their insurance rates may increase. The guidelines on compliance are dense and require costly legal counsel. 
On Dec. 23, 2019, Gov. Gavin Newsom extended a rent-cap law on many properties not already covered by AB 1482's rent caps.
This cap is meant to prevent price-gouging in the aftermath of 2017's wildfires; rent cannot be increased to more than 10 percent above pre-fire value, not only in affected counties but also in many surrounding counties, according to the California Apartment Association. 
'Tenant Welfare'
"Some people need help with rent. I fully agree with that," Pierce said. "But why pick on one group to pay the cost of that? The problem with rent control is you're taking one group of people—the owners of real estate—and putting a disproportionate burden on them."
"We're forcing owners of real estate to subsidize their tenants."
He drew an analogy to food-stamps. "The grocer who's selling milk doesn't have to subsidize the customer that walks in and needs milk at a lower price," he said. "The customer uses food stamps. But if milk is selling for five bucks a gallon, the store owner gets five bucks a gallon—just like he would from any customer."
Faller made a similar comment: "We call it tenant welfare, we don't call it rent control." 
"[Legislators] pass laws that create the housing crisis," Faller said. "We tell them rent control causes a shortage—Economics 101. After they've created a crisis in the big cities with rent control, then they [attempt] to solve that by making it worse—they're making it statewide."
A 2018 Stanford study of rent control effects in San Francisco found that landlords affected by rent control reduced the rental housing supply by 15 percent.
It found that tenants in rent-controlled housing benefited, being 20 percent more likely to stay in their homes. But because of landlords pulling out of the business, the city saw an overall 5 percent increase in rent prices. 
The authors suggested the government take responsibility for protecting vulnerable tenants instead of mandating landlords to do so. 
On the other hand, proponents of rent control say landlords still make a fair rate of return even if it isn't market value. And they decry "predatory evictions." 
Tenant Protections
When AB 1482 passed the legislature in September 2019, the bill's sponsor, Assemblyman David Chiu (D-San Francisco), said, "This bill will prevent egregious rent-gouging and predatory evictions while striking a balance to allow landlords to make a fair rate of return."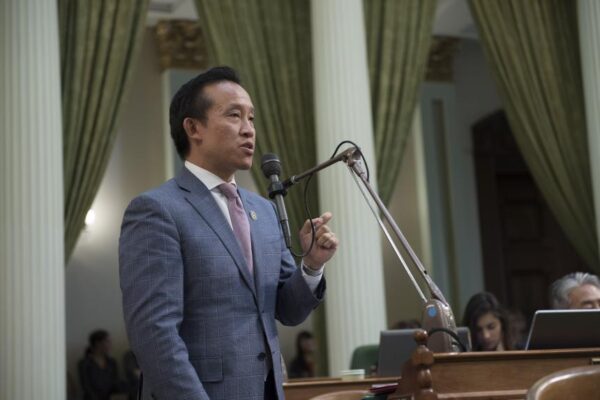 Newsom said in a statement the same day, "In this year's State of the State address, I asked the Legislature to send me a strong renter protection package. Today, they sent me the strongest package in America.
"These anti-gouging and eviction protections will help families afford to keep a roof over their heads, and they will provide California with important new tools to combat our state's broader housing and affordability crisis."
That package included more than 20 laws. In addition to tenant protections, many of the laws aimed to promote housing development. For example, they streamlined the approval for new developments, allowed greater density to pack more units into a space, and promoted accessory dwelling units. 
The tenant protection laws are aimed to address a major shortage in affordable housing. A 2018 report by the League of California Cities Homelessness Taskforce stated: "California is home to 21 of the 30 most expensive rental markets in the nation and the state does not have enough affordable housing stock to meet the demand of low-income households. The state's 2.2 million extremely low-income and very low-income renter households compete for 664,000 affordable rental homes."
Daniel Gonzalez, executive director of the Center for Community Advocacy, has helped many tenants who have faced eviction.
He said he has found some landlords open to discussion and willing to reverse evictions. 
One landlord his organization has worked with, Carrie Appling, told The Epoch Times in December 2019, "We get painted in the press as the big bad landlord who has all the money, and that's sometimes very far from the truth."
"Landlords are not all big corporations with huge deep pockets. They're individual people." 
While Gonzalez is happy to see new tenant protections in place, he said the new laws are complicated. 
"It's basically up to the judges in the court to interpret what certain things are," he said. "People don't really know where the line is drawn."
Confusion
"You almost have to be a lawyer to know whether your unit's covered or not," said Joseph Tobener, an attorney at Tobener Ravenscroft who specializes in tenant law. The laws contain "lots of little complications, nuances, and loopholes," he said. 
"It's going to require a lot of work later to close all the loopholes."
Mike Nemeth, communications director for the California Apartment Association (CAA), said, "Right now, the biggest impact on owners of rental property in California comes from the learning curve they face."
"Frankly, they have lots of homework to do, and that's something we're helping with."
CAA has, for example, created a webpage that helps landlords determine the AB 1482 provisions that apply to their particular properties. 
In November 2020, Californians may vote on a ballot measure to further expand rent control. The housing advocacy division of the AIDS Healthcare Foundation, called Housing Is a Human Right, is behind the measure.
It would lift restrictions imposed by state law, allowing cities and counties to implement and expand rent control policies.