LADERA RANCH, Calif.—More than 100 students outside Ladera Middle School protested mask mandates before class on Feb. 11.
Students arrived before school waving flags and holding signs with slogans such as "Let Them Breathe," "Honk for Mask Choice," and "We Want to See Your Smile."
Macy and Travis, two seniors from nearby San Juan Hills High School who were at the parent-led protest to offer support, told The Epoch Times that students are becoming increasingly fed up with having to wear masks for hours at a time while at school.
"Our ultimate goal is to get the mandate for schools lifted in California and all over the country. It's been lifted for schools in many other states, and California has one of the only [mandates] left," Macy told The Epoch Times. "We want it lifted and be given the choice to choose if we wear a mask or not at school."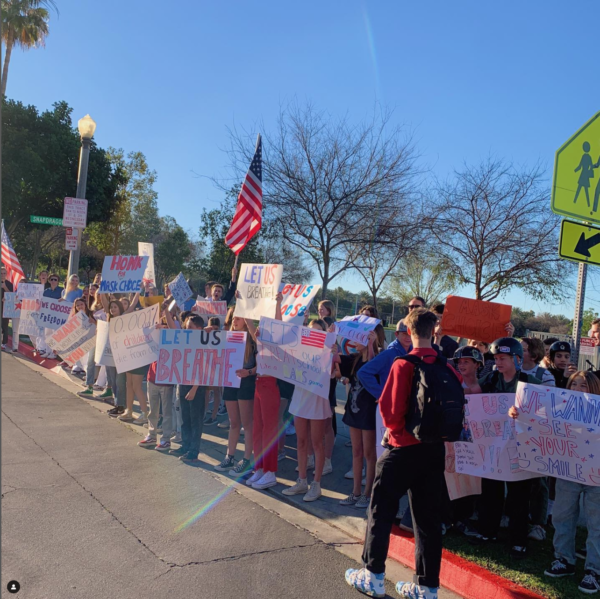 Travis said the middle school students were all happy to join in the protest.
"We [arrived] pretty early, and we all have our signs, and we were on the side of the road, just holding up signs that say, 'Honk if you're pro mask choice,' stuff like that. And we probably got 100, maybe 200 middle schoolers to just join in, take some signs and they're all freaking out and having a blast while doing it. We had a lot of support," he said.
Capistrano Unified School District Trustee Lisa Davis told The Epoch Times that both students and parents are tired of the hypocrisy, given that Gov. Gavin Newsom was pictured not wearing a mask while at a National Football Conference (NFC) Championship game at Inglewood's SoFi Stadium on Jan. 30.
"The kids are done," Davis said. "They're just done. We've got a governor that's not in a mask. And we're waiting patiently. … We've done everything everyone's asked us to, and people are done."
Capistrano Unified School District public information officer Ryan Burris told The Epoch Times that 33 students were sent home for not wearing masks on Feb. 11.
Burris said the district had protests throughout the week at a number of its schools, yet this was the largest one. The students also went to class after.
"We're just trying to communicate with families that the guidelines are from the California Department of Public Health, and if the guidelines change, then we will change our [own] guidelines to be consistent with the state's guidelines," Burris said.
Macy and Travis recently launched Student Mask Choice, a group of 30 high school students from South Orange County committed to allowing the choice of masks on school campuses.
"If wearing a mask makes you feel comfortable and safe, then you should do that, but you should also have the choice not to wear a mask, and you should not be forced to wear a mask—especially to receive an education," Macy said.
After two years under constant mask-wearing, Travis said a lot of kids feel the matter is affecting their education and overall mental health.
"A lot of kids struggle with it," he said. "Personally, I've seen a lot of people just have a really hard time going to school and just dealing with wearing the masks, and I've seen a lot of my friends' mental health just deteriorating."
"We've just seen the parents try to end this many times, and it didn't really work. … I guess it's our turn. If the parents didn't get it done, what better place for it to come from than the kids?"