In  America, there are more than 23 million living veterans, per a Nov. 13, 2018, FOX News report.
Many of these veterans came home with emotional scars or physical wounds, living with disability and injury; others struggle with unemployment or homelessness.
To show our appreciation to these veterans for the sacrifices they made to defend our freedom and liberty, we can extend a little kindness to make a positive difference in their lives.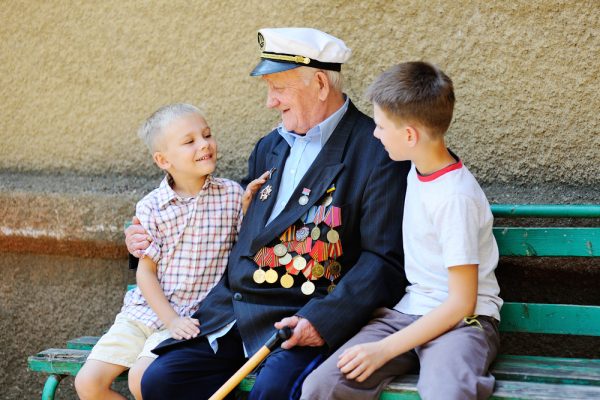 And that's what Cailey Marie Sparks thought of doing one day in February 2016.
"Last evening, my mom and I were walking into Texas Roadhouse in Savanah, GA. when we noticed a man sitting on the outside patio," Sparks, a resident of Georgia, wrote for Love What Matters.
The man, with long gray hair and a beard, was apparently a veteran as he wore a jacket bedecked with vet war badges.
Sparks noticed the veteran kindly greeting anyone and everyone who walked into the restaurant, saying, "Hi, how are you tonight?"
Most people responded to the veteran's warm greeting. Although some people simply ignored him, he still continued to greet every person.
Sparks sat down at a booth with her mom. Across from their table, they saw the veteran eating his meal, smiling at everyone around him.
The veteran was sitting by himself, but not for long. A young waiter later approached him to have a conversation.
Sparks then whipped out her camera to snap a picture of their friendly and down-to-earth interaction.
"The young waiter in the photo had all the patience in the world, he stopped to talk to this man, smiled and laughed with him and listened to stories about his life," Sparks wrote.
"Last evening, my mom and I were walking into Texas Roadhouse in Savanah, GA. when we noticed a man sitting on the…
What happened next melted the hearts of many who read Sparks's post.
Wanting to show appreciation to the kind veteran, Sparks and her mom flagged the manager down and offered to pay for his meal.
Surprisingly, the manager proudly replied, "Ma'am, someone else already has."
"Everyone in the section grinned when the waiter told him that his meal was covered," Sparks recalled. "The man then left, telling everyone on the way out that he hoped they had a good night."
Sparks's post received over 50,000 reactions. Social media users were in awe that patrons at the restaurant had so considerately footed the veteran's bill together.
"We sometimes forget about those who fought for our freedom in times past. Some are homeless, some are just lonely," one remarked.
Another opined: "When you take the time to [do] something good like this, it will make you a better person on the inside. We all need to help those who gave so much in their lives for our way of life."
May this story inspire you to help our veterans too.
A small act of kindness, even just a simple "thank you" and a handshake, which don't cost a thing, could mean the world to many of these veterans.