We've all seen the news: the midwest is being ravaged by record-breaking winter storms. The "polar vortex" has had devastating effects on thousands of Americans as freezing conditions have imprisoned many people inside their own homes.
Another Winter Storm Headed To Wisconsin https://t.co/k58pHrUXej pic.twitter.com/tSjAw6pQqT

— WPR (@WPR) February 11, 2019
Many schools, stores, and official buildings have closed. But for the country's first responders, it's a normal week on the job.
In Wisconsin, the wind chill dropped to a staggering -50 degrees Fahrenheit (approx. -45 degrees Celsius), a temperature that can induce frostbite on exposed skin in as little as five minutes.
Which is why one photo of a fire chief working in these conditions has captured the attention of the country. America's first responders have battled tirelessly to keep the rest of us safe during these desperate times, and the severity of the task at hand can be seen on all of their faces.
Lake effect this morning before a winter storm moves in for tonight and Tuesday. Highest snow amounts in northwest Wisconsin. #WIwx #MNwx pic.twitter.com/9MNCU9S1V0

— NWS Duluth (@NWSduluth) February 11, 2019
Fire Chief Mitch Hansen, of Cameron, Wisconsin, is one such man. As if facing the bitter cold weren't enough, Fire Chief Hansen also had to work under impaired conditions: the freezing weather has meant that much of the fire department's equipment is not running at full capacity. Or at all.
On Jan. 30, Hansen and the first response fire team responded to a call about a house fire. It was thought that a space heater started the fire, proving that yet another hazard of the freezing weather is that people are using more heating equipment in their homes. More fire hazards means, sadly, more fires.
Hansen has been working with the fire department in Wisconsin for 43 years, but has never experienced fire-fighting in temperatures this extreme before.
At the scene, the team set to work in their usual way, but the back spray from the fire hose caused a bizarre phenomenon: the spray turned to frost and ice in the air, covered Hansen from head to toe, and left him with frozen eyelids, a frost-covered beard, and his protective clothing covered in a thin layer of ice.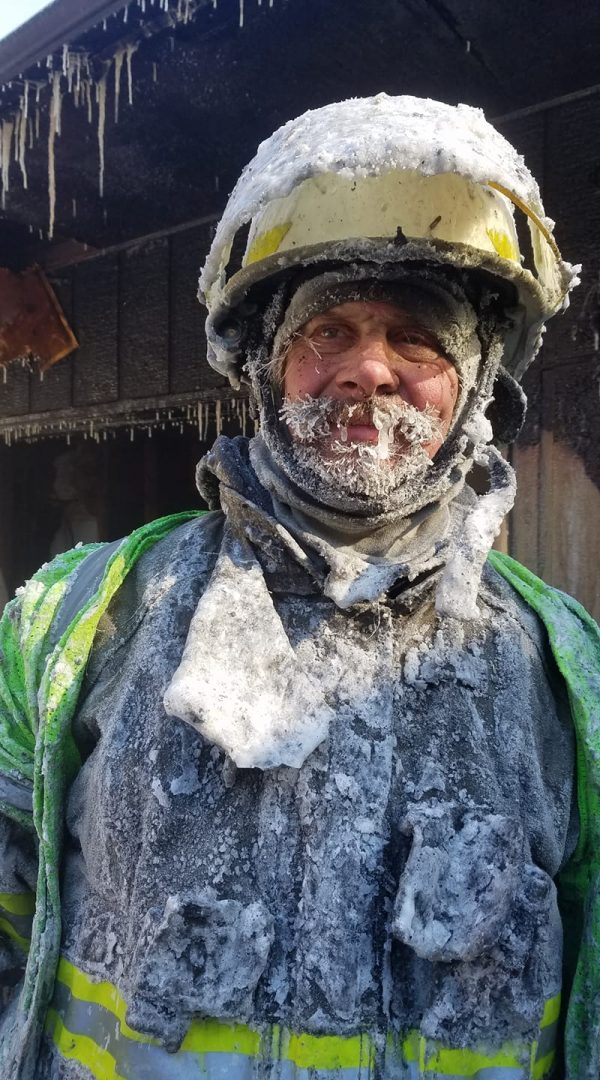 This frosty coating happened as Hansen was battling to put out the fire, and neither him nor his team noticed that bizarre effect of the frozen back spray until the danger was over. The home was sadly lost, but its inhabitants escaped without harm.
Assistant Chief Bimbo Gifford took a picture of his colleague and posted it online. The extraordinary image went viral.
"The heat of the moment and the adrenaline rush keeps you warm while you're doing it," explained Hansen, talking to WQOW. "As soon as you start slowing down and getting done, then that's when the reality and the cold sets in."
The photo perfectly depicts Chief Hansen as he described himself: "frozen stiff."
The camaraderie of the fire department first-response team keeps morale high during times like these. Speaking to CNN, Chief Gifford described his team: "We're a small team of volunteers but we're careful and trained."
There will be no "snow days" for the country's first responders. The news may issue warnings and the vast majority of folk in the country's coldest regions will be bundled up tight, away from the biting cold. But for Hansen, Gifford, and the Cameron fire department, not to mention first responders countrywide, they will always be where the help is needed.
Have you been affected by the bitter cold this winter? Share this article with family and friends and show your support for the country's tireless first responders!