Meet science teacher Peter Tabichi—the first African and male teacher to clinch the Varkey Foundation 2019 Global Teacher Prize.
The world's most outstanding educator, selected from 10,000 applicants, was presented with the US$1 million prize by Crown Prince Sheikh Mohammed bin Rashid al-Maktoum in an award ceremony held in Dubai on March 24, and hosted by actor Hugh Jackman.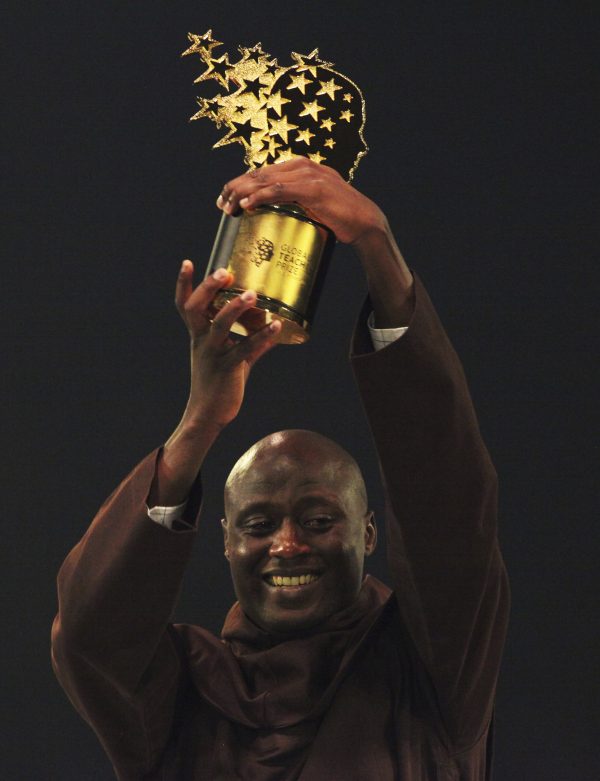 Tabichi, a Roman Catholic brotherhood who wore a brown robe that night to receive the award, said in his acceptance speech: "Every day in Africa we turn a new page and a new chapter… This prize does not recognize me but recognizes this great continent's young people. I am only here because of what my students have achieved."
"This prize gives them a chance. It tells the world that they can do anything," he continued.
Tabichi went on to thank his father before inviting him on stage.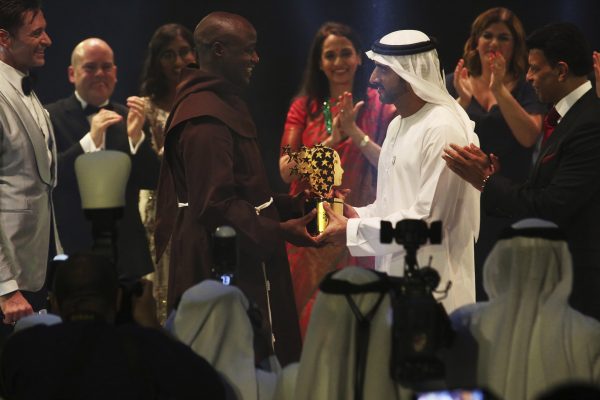 The Story of Peter Tabichi—the World's Best Educator
Hailing from Kenya, Tabichi teaches in Keriko Mixed Day Secondary School, which is run by the government in the remote Pwani Village, situated in Kenya's Rift Valley—a region often affected by drought and famine.
According to the Varkey Foundation, the school has just one computer with a slow internet connection, and his students, who are from various cultures and religions, learn in ill-equipped classrooms.
Peter Tabichi, a Maths and Physics teacher from Kenya, has been named as the winner of the Varkey Foundation Global Teacher Prize 2019!
Ninety-five percent of Tabichi's students come from disadvantaged families, with a third of them being orphans or who have just one parent.
Adding to this, to attend school, the students have to walk a 7-kilometer journey on roads that become untraversable during the rainy season.
As a result of family poverty and lack of parenting at home, drug abuse, teenage pregnancies, dropping out early from school, young marriages, and suicides are the norm.
It is surely beyond doubt a difficult task to teach in a school with limited facilities and a student-teacher ratio of 58:1. But Tabichi was determined to help his students excel in studies.
The hardworking teacher initiated a talent-nurturing club and expanded the school's science club. Through his assistance, 60 percent of the research projects developed by his students qualify for national competitions.
Tonight the @TeacherPrize announces the #GlobalTeacherPrize winner of 2019 #GESF @GESForum
Kenyan high school science teacher @petertabichi of Keriko Mixed Day Seconday School #Njoro #Nakuru is on the top 10!
Rooting for him! #TabichiForGTP #AfricaForTheWin@AMB_A_Mohammed
🇰🇪🌍 pic.twitter.com/4QV4eulx5x

— Julie Gichuru (@JulieGichuru) March 24, 2019
In addition, Tabichi guided his students through their participation in the Kenya Science and Engineering Fair 2018, where they exhibited their invention—a device that enables blind and deaf people to measure objects.
Under his mentorship, the Mathematical Science team also met the requirements to participate at the INTEL International Science and Engineering Fair 2019 in Arizona, USA. On top of that, his students have done him proud by winning an award from The Royal Society of Chemistry for using local plant life to generate electricity.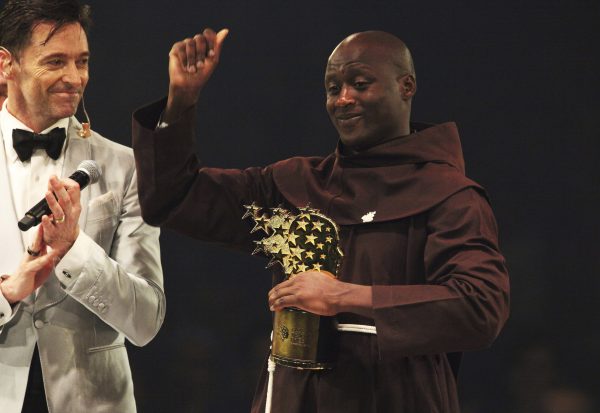 Tabichi's influence reaches far beyond the classroom. Outside of class, along with four other colleagues, he gives students who are struggling academically one-to-one tuition in Maths and Science.
Going the extra mile, the dedicated teacher sacrifices his weekends to visit students' homes to understand the challenges they undergo. He even gives away 80 percent of his monthly salary to support his students, BBC reported.
"At times, whenever I reflect on the challenges they face, I shed tears," Tabichi told the Associated Press.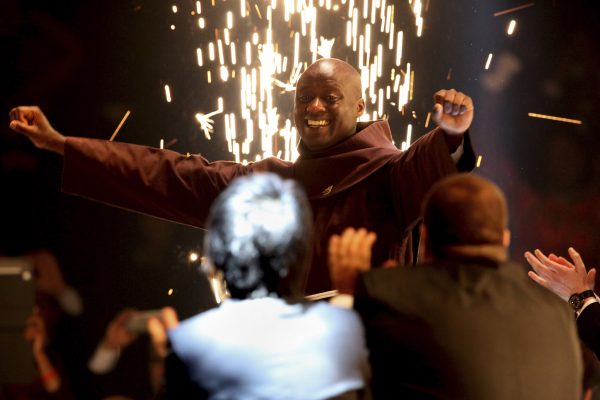 In spite of the school's poor internet access, Tabichi uses Information and Communication Technology (ICT) in 80 percent of his lessons to engage students.
Tabichi's hard work and sacrifice has been worth it.
The students come to "believe in themselves" thanks to Tabichi's relentless efforts to improve their academic achievement and self-esteem.
"Enrolment has doubled to 400 over three years, and cases of indiscipline have fallen from 30 per week to just three. In 2017, only 16 out of 59 students went on to college, while in 2018, 26 students went to university and college," the Varkey Foundation states.
With Tabichi's dedication, coupled with "hard work and passionate belief in his student's talent," he has "led his poorly-resourced school in remote rural Kenya to emerge victorious after taking on the country's best schools in national science competitions."
Congratulations Peter Tabichi, from Kenya! @VarkeyFdn @TeacherPrize pic.twitter.com/o66KPDWWi6

— Hugh Jackman (@RealHughJackman) March 24, 2019
Youngest Nobel Peace Prize laureate Malala Yousafzai once famously said: "One child, one teacher, one book and one pen can change the world." To Tabichi, the greatest joy of teaching is seeing his students "grow in knowledge, skills and confidence."
"When they become resilient, creative and productive in the society, I get a lot of satisfaction for I act as their greatest destiny enabler and key that unlocks their potential in the most exciting manner," he said.
Teaching is certainly not an easy feat—it takes a lot of hard work and sacrifice. Tabichi is unquestionably an exceptional educator for going above and beyond to nurture, inspire, motivate his students, and turn their lives around. It's really heartwarming to see him win the US$1 million Global Teacher Prize.
Watch the video:
Dive into the world of the 2019 Global Teacher Prize, Peter Tabichi. "It's morning in Africa. The skies are clear. The day is young and there is a blank page waiting to be written. This is Africa's time."

由 Global Teacher Prize 发布于 2019年3月24日周日
Thumbnail Credit: L: Facebook | Global Teacher Prize, R: AP
You may also want to watch this video
Dear Teacher: Heartfelt Advice for Teachers from Students