Suffering a neck or spinal cord injury can often mean living the rest of one's life as a paraplegic or quadriplegic. One young man broke his neck, and faced the distinct possibility of never being able to move or feel below the neck again.
Alexander Harris, who goes by Al, is 18 years old and lives in Claremont, California. Harris has had a passion for motocross ever since he can remember. His first race was at age 5.
On Aug. 19, 2018, Harris made his professional motocross debut at age 17. As Harris was launching off of a jump, his foot caught the ground. He flew through the air, and landed on his head.
Initially, his mother Peggy thought he would get up, as he had crashed before and had broken some bones in the past.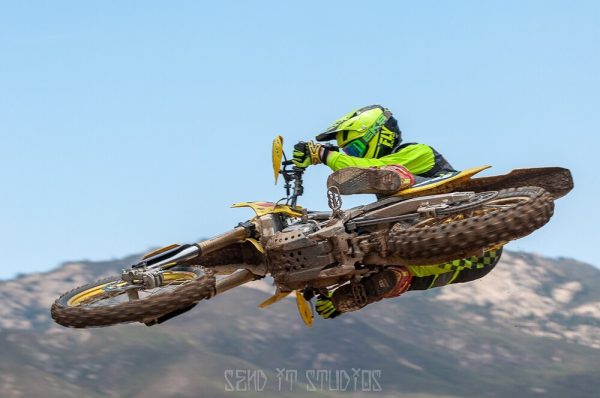 When she approached Harris, he told her that he couldn't feel anything below his neck. He tried to move his legs, his hands, and his arms.
"When I stopped, my first instinct was to get up. Once I tried to get up I couldn't move. After that, I was just seeing if I could move other parts of my body," Harris told The Epoch Times.
Emergency Surgery
Harris had shattered the C5 vertebrae in his neck, and sustained a lacerated liver. The paramedics took Harris to Loma Linda University Health Children's Hospital in California, and he underwent x-rays and MRIs.
Before emergency surgery, Tanya Minasian, a D.O. pediatric neurosurgeon at Loma Linda University Children's Hospital, told Peggy and her husband the extent of Harris's injuries. She told his parents that the goal was to have Harris be able to shrug his shoulders. She also told them to be prepared to see Harris on a ventilator if he couldn't breathe on his own.
"He had sustained a very severe spinal cord injury," Minasian said.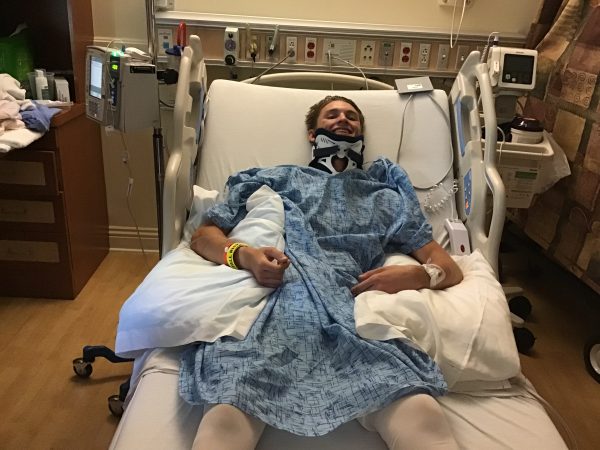 Minasian worked diligently to remove the fragments of shattered vertebrae to relieve pressure from Harris's spinal cord, and then she inserted a titanium cage and a plate with screws. The surgery lasted five hours.
"Terrifying. Absolutely terrifying. Just not knowing what to expect. What the outcome would be," Peggy recalled as she waited.
After the surgery, Harris was breathing on his own and was taken to the intensive care unit. After a week in intensive care, Harris was transferred to another hospital to begin the arduous process of rehabilitation.
Taking Steps
Harris worked diligently during his recovery. He engaged in a variety of strengthening and balancing exercises. Two days after the surgery, he could lift his arms slightly. Two weeks after surgery he was able to move his left pinky toe.
"That was the first really cool thing I did," Harris said.
One of the largest milestones for Harris was when he was able, with assistance, to stand up on his own two feet one month after his surgery. Seven months after the crash, he was able to take steps without any support.
Eight months after the accident, he was riding his bicycle again.
"The first time I did those two things I was really happy. It felt like one step closer to getting better," Harris said.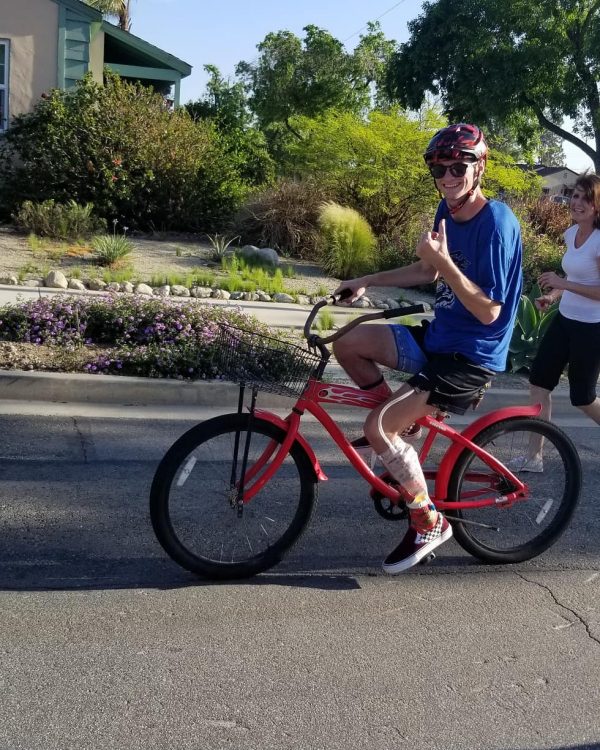 Despite the strides he made, Harris's recovery was not without its obstacles. He had to develop his endurance, and his blood pressure drops sometimes, causing dizziness. He also had his teachers visit him in the hospital and continued with his studies while in recovery.
His recovery is ongoing.
On June 13, 2019, Harris graduated from high school. He had a lot of friends and family supporting him, received a standing ovation, and walked across the stage to receive his diploma.
"It was really cool, hearing all the cheers behind me from all the people was really cool, and it was a good accomplishment walking across," Harris recalled.
His surgeon cheered him on as well.
"It was fantastic to be there cheering him on. It's one of the highlights of my career," Minasian said.
Harris will be attending Citrus Community College in the fall, and will be studying kinesiology. He hopes to become a personal trainer, and hopes to ride a motorcycle again.