Dialing  the wrong number can be quite embarrassing, but a woman in Florida is willing to tell the world about her mistake because there's a heartwarming story behind the slip-up.
When Lisa Nagengast flew back to her Florida home from Nebraska, she thought that everything was going well for her brother, Greg Holeman, after his surgery. But the minute she landed at the airport, she received his voicemail, in which he said he was bleeding.
As Holeman, an army veteran living on disability in Columbus, couldn't get a ride to the hospital, Nagengast offered to call his social worker, Pam, for him.
And little did she know that she called a Jimmy John's gourmet sandwich store instead of Pam.
Due to background noise at the airport, Nagengast didn't realize her mistake and told the receiver of her call about her brother needing help to get to the hospital.
"The whole time I pretty much knew that she didn't know she was talking to someone from Jimmy John's," Jason Voss, the night-shift manager, told CNN. "It didn't seem important to really bring it up, but I just wanted to make sure that she knew I was going to help her."
As Voss couldn't leave the restaurant, he called Jimmy John's delivery driver, Zach Hillmer, to ask for help for this mission, which Hillmer—a veteran himself—gladly took on.
When Hillmer called Nagengast to ask for Holeman's address, she was confused until he told her that she called Jimmy John's and not the social worker.
"You mean Jimmy John's like the food place?" she asked, recalling the conversation on Facebook.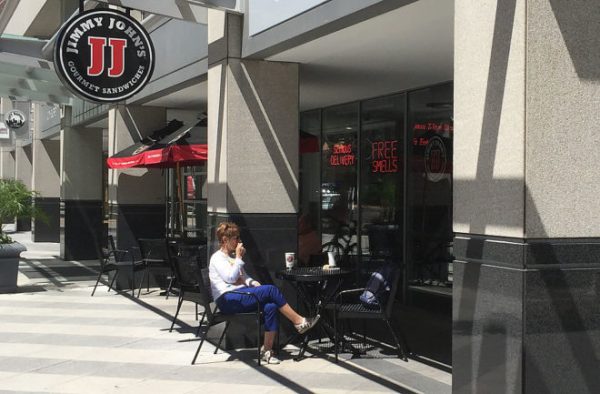 She apologized once she realized her mistake. However, Hillmer was determined to help send her brother to the hospital.
Though the whole episode was embarrassing for Nagengast, the restaurant staffs' willingness to help warmed her heart.
"In today's political climate, everybody's arguing with everybody, and we're not actively listening to what anybody has to say," she told Omaha World-Herald.
"To have two complete strangers listen to me and then decide to do something to fix it—it was amazing."
But for Voss, he's just glad he could help them out.
Jimmy John's founder coming to Columbus!Jimmy John's Delivery Driver Zach Hillmer, left, and Night Shift Manager Jason…
"There is always time for people, especially people in need," he said.
"I had the resources, I had drivers, we weren't super busy with deliveries, either. Zach was glad to help someone out."
Watch the video below: