The brave servicemen and women in our nation's armed forces sacrifice a great deal to keep me and you safe—they miss birthdays, graduations, and sacrifice quality time with their family and friends.
Some of these military personnel never make it home. Others return home with emotional scars, or physical wounds they'll never recover from.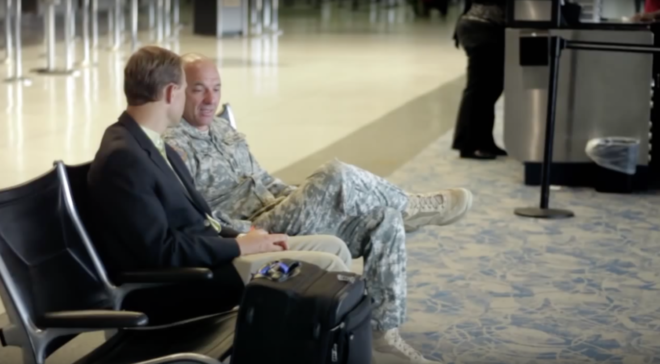 Besides saying "Thank You" to those who have served and are serving our country this Veterans Day, there are many other ways to show our appreciation for their service.
One businessman named Brad took his appreciation a step further.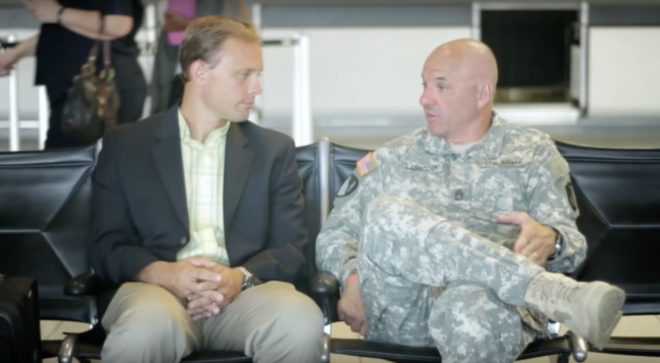 In a video posted on the YouTube channel "I Like Giving," a U.S. soldier named Glascott, who was deployed in Iraq, recounts how he struck up an amiable conversation with Brad, whom he had never met, aboard a plane.
During the flight, Glascott told Brad, a businessman, that he was on leave after being on deployment for 7.5 months. He was heading home just in time to celebrate his son's 9th birthday.
In their conversation, Glascott revealed he was planning to visit the Great Wolf Lodge with his family, giving his son a birthday to remember.
After the plane landed, the two parted ways.
Glascott never thought much about Brad until the day he checked in to the lodge with his family.
The receptionist at the front desk had a pleasant surprise for Glascott.
"You have a message on your account from Brad," the receptionist said.
Who's Brad?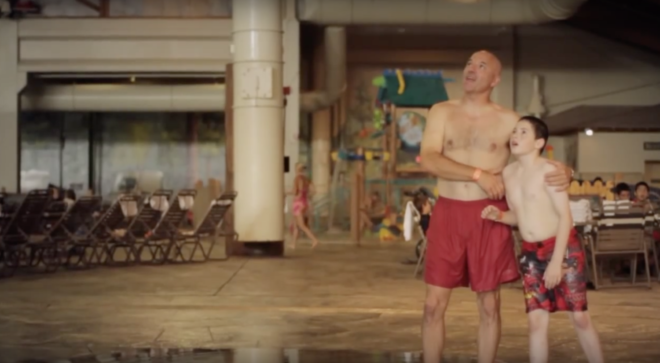 When the receptionist explained that Brad had sent well wishes from Atlanta, a light bulb went off in Glascott's head.
Glascott realized Brad was the businessman he met on the plane.
As the vet took out his credit card to pay for his accommodation, the receptionist said, "Your money is not good here, soldier."
Glascott was puzzled.
The receptionist continued: "Your account has been paid. In full. Brad wants you and your family to enjoy your stay at Great Wolf Lodge."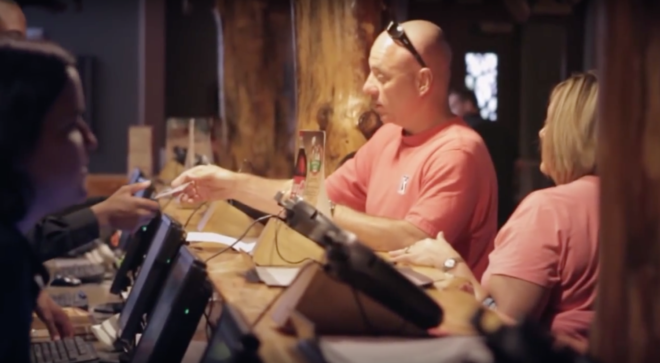 Glascott and his wife were stunned that a stranger went out of his way to pay for their trip.
Glascott's wife was always worrying about her husband's safety; hence, it's awesome to know someone out there greatly appreciated Glascott for his service.
Thanks to Brad, Glascott got to enjoy a well-deserved vacation with his family at the Great Wolf Lodge for free.
Brad's act of generosity made the holiday particularly memorable for the Glascott family.
The heartwarming video has received over 90,000 views ever since it was uploaded on Feb. 24, 2012.
One viewer wrote: "A wonderful story. If only we all felt moved to make a difference in a military family's life like they all have made a difference in ours…………………….
"Many blessings and thank you to all who have served, to those who are serving and to those we have lost.
"May God comfort you and your families and continue to give you strength and hope."
May this story inspire you to perform a random act of kindness for our veterans and brave military personnel.
Watch the video:
You may also want to watch this video
Taco Bell waitress can't believe what this soldier just handed her—'are you serious!?'