Oscar and Grammy Award winner Jamie Foxx is a global superstar. Not that he'd disagree, but in his opinion there's an even brighter star living under his roof: his little sister.
DeOndra Dixon lives with her older brother (Foxx is 51) and has done so ever since he invited her to after her graduation from high school in 2002. Dixon is a vivacious 34-year-old who also happens to have Down syndrome. But the condition, which can cause a wide range of developmental and physical disabilities, truly hasn't held her back.
Foxx even credits his sister with teaching him "how to live."
"DeOndra has a light on that has been on since she was born," Foxx shared in a Dateline feature back in August of 2018. "Little bundle of joy! We didn't know what Down syndrome was," the actor and singer continued. "My mother was smart, in immediately keeping her 'normal.'"
Dixon attended school and joined the choir. She was never held back from embracing a normative lifestyle, nor from chasing her dreams and ambitions. "I didn't know what she was going to have to do as far as fending for herself and becoming an adult," Foxx admitted. However, his little sister quickly proved that she had gumption, and with her big brother looking out for her, anything was possible.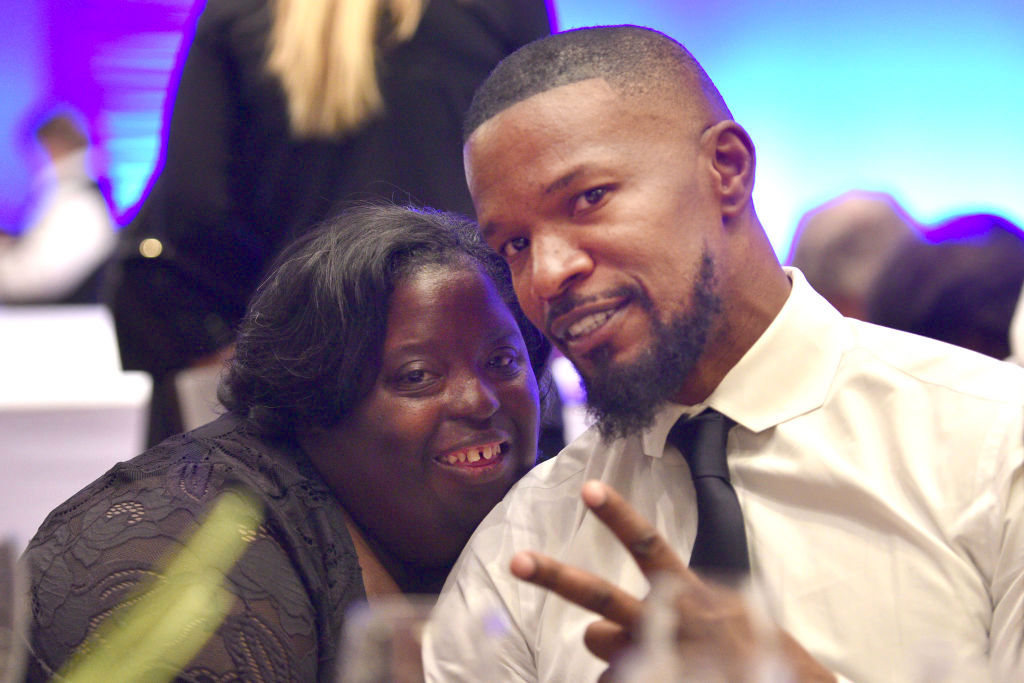 "Our family just treats her like DeOndra," Foxx explained. "She goes everywhere we go. She's usually the life of the party!" The siblings' mother always encouraged Dixon. She'd say "Go to school, play, have fun—there's nothing different about you!" Foxx recalled, in conversation with the Global Down Syndrome Foundation.
Today, Dixon serves as a global ambassador for the very same foundation.
Jamie Foxx and DeOndra Dixon rocking the carpet at the Global Down Syndrome Foundation's Be Beautiful Be Yourself … https://t.co/mWOcSfu7d4 pic.twitter.com/792ODqzN06

— 9NEWS Denver (@9NEWS) November 12, 2017
When asked what Dixon had taught him, Foxx's response was immediate, and humbling. "I learned how to live. We get caught up in our world on the extras … She brings you back down to what life is."
Dixon has blossomed under her brother's roof, and Foxx has never shied away from including his sister in his life on the stage. She has danced with him at the Grammys, and even appeared in the video for Foxx's single "Blame It."
The Oscar-winning actor and singer credits his younger sister, DeOndra Dixon, with giving his life perspective. https://t.co/CrmmQjjp7L pic.twitter.com/q9UCZK01Xf

— WOWT 6 News (@WOWT6News) September 1, 2018
The Global Down Syndrome Foundation's president and co-founder, Michelle Sie Whitten, sees Dixon's light shining just as brightly as Foxx does. "People with Down syndrome really can have an amazing life," she said, in an interview with Today.
"She's got a brother who loves her, she's got a great family, she does interesting things, she has things to look forward to."
A dance-off to beat all! LOVE this behind-the-scenes video of @iamjamiefoxx & sister DeOndra Dixon, Ambassador for @GDSFoundation. More @TODAYshow at 8 and #Dateline tonight 10p pic.twitter.com/S7BUYnXnYK

— Kate Snow (@tvkatesnow) August 31, 2018
Times have changed, and today, with the GDSF making waves in advocacy and people like Dixon acting as a role model for millions, Down syndrome isn't what it used to be.
"More and more [people with Down syndrome] are looking at college," Whitten added. "More and more are looking to get married. Many are looking for job opportunities."
He's one of the biggest stars in Hollywood, but as far as Jamie Foxx is concerned, his baby sister is the family superstar.Kate Snow reports on an all-new Dateline Friday starting at 10/9c on NBC.

Posted by Dateline NBC on Thursday, August 30, 2018
Dixon and Foxx, making each other laugh with a spontaneous dance-off in their Today studio chairs, have the last word. Well, Dixon does. "I'm making him laugh every day," she said, proudly.
"I am the king of this man!"