Unofficial results from Bangladesh elections show a landslide victory for the ruling Bangladesh Awami League, giving another term to Sheikh Hasina as the country's longest-serving prime minister. The main opposition party is rejecting those results and calling for new elections.
Bangladeshis went to the polls Dec. 30 to decide representatives for the 11th Jatiya Sangsad, or National Parliament, amid reports of violence that resulted in at least 17 dead and many more injured across the country. The capital Dhaka—the most densely populated city on earth—remained relatively peaceful.
Authorities had deployed 600,000 security personnel across the country to control the violence. The government also ordered telecom companies to shut down mobile internet ahead of the elections "to prevent rumors and propaganda surrounding the vote."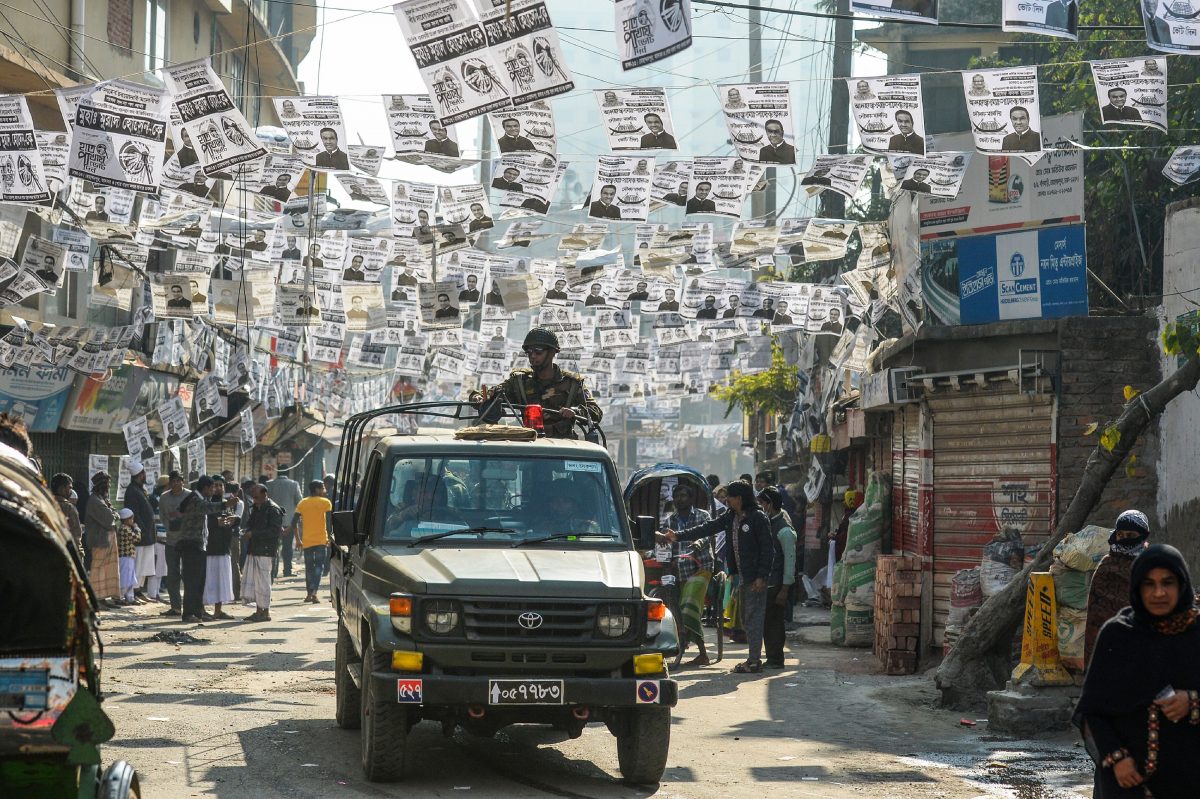 Violence and Politics
While the Bangladesh Election Commission has promised to probe incidents of violence, the opposition alliance Oikyafront, led by the Bangladesh Nationalist Party (BNP), is accusing the ruling party of suppression and meddling with the polls, and is calling for a new vote.
Khaleda Zia, leader of the BNP and a previous prime minister, is currently in prison on corruption charges and remained absent from the campaign. Her party boycotted elections in 42 constituencies on allegations that the process wasn't run fairly. Early unofficial results show the BNP to have a negligible presence in the new parliament.
Zia had boycotted the previous round of elections in 2014.
"If you give a complete walkover, what can you expect," said Joyeeta Bhattacharjee, a senior fellow with New Delhi-based think tank Observer Research Foundation, who specializes in Bangladesh domestic politics.
Both BAL and BNP have accused each other of being behind violent attacks on their members. In a press conference Dec. 29 at the election commission headquarters, the ruling BAL claimed that seven of its members were killed by members of the BNP-led alliance, according to the Dhaka Tribune newspaper. BNP also claims to have lost five activists.
Significant Elections
Hasina, daughter of the legendary leader of Bangladesh liberation movement Sheikh Mujibur Rahman, has been in power for the last two parliaments. With this victory, she'll be in power for a third consecutive term, becoming the longest-serving prime minister in South Asia, a status that could help her gain more power in the region.
Hasina is credited with helping boost her country's economy. Last year, Bangladesh experienced 7.28 percent growth in GDP, higher than its neighbor and regional power India, according to World Bank data.
"[Hasina's] popularity is very high among people. Whether we like it or not, development is quite notable. People who visit Bangladesh feel the change," said Bhattacharjee.
Hasina's governing style has been labeled by the opposition and some media analysis as authoritarian. Her son, Sajeeb Wazed, who runs an IT company in the United States and is a resident of Washington, rejects the accusations.
"You know what my mother told me this morning?" Wazed said a day ahead of the elections. "Branded authoritarian by the Western media now is a badge of honor."
Hasina won her parliamentary seat in the Gopalganj-3 constituency decisively, winning 229,539 votes to BNP's 123.
Bhattacharjee describes Bangladesh polls to be centered around iconic leadership. "[In Bangladesh politics] icon matters. Two iconic families mean a lot in politics. Their [Sheikh Hasina and Khaleda Zia] presence on the ground matters," she said.
Reuters contributed to this report.