The pleasure and pain of traveling with small kids is something that all parents can relate to. Things get harder when the child feels jaded or gets cranky. But the universe isn't oblivious to your needs, and a mother who shared her story reminds us that there is love and compassion all around.
Becca Kinsey, of Dallas, Texas, was flying back home from Disney World with her two boys, Wyatt, 2, and James, 5.
Her post on Facebook indicates the trip wasn't going too well, as Kinsey wrote, "we were standing in line in security, on the verge of tears because Wyatt was screaming and James was exhausted."
That resigned look on Kinsey's face was soon going to change as she was about to be the beneficiary of some random acts of kindness from three different women, who knew exactly what she was going through.
First, it was a woman who offered her place in the security line.
"Out of the blue, one mom stops the line for security and said, 'Here, jump in front of me! I know how it is!'" she recalled her saying.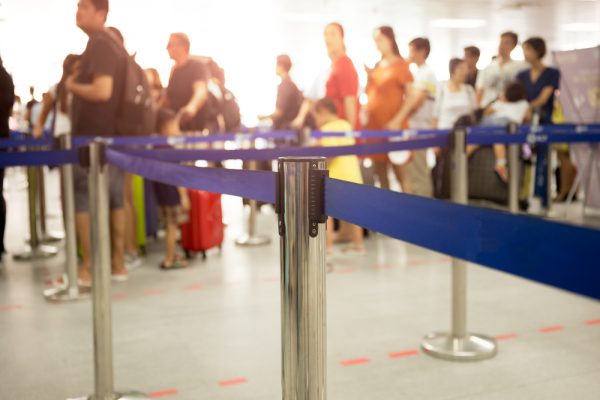 Within minutes, her 2-year-old son fell asleep, leaving Kinsey to carry him along with all of their belongings.
That was when another mom jumped out of her place in the line and said, "hand me everything, I've got it."
The kind woman helped Kinsey and the boys through security before taking hold of their luggage and helping them to the gate.
When Kinsey turned around to thank both the women, they said, "don't you worry, we're going to make sure you get on that flight."
"The second woman takes evvvverything and helps me get it through security and, on top of all that, she grabs all of it and walks us to the gate to make sure we get on the flight," Kinsey wrote.
The two kind strangers had done everything to turn Kinsey's day around, but the best part was yet to come. During the takeoff, Wyatt woke up and began to scream, before finally falling asleep again.
Kinsey was stressed and needed a moment for herself, but she couldn't put Wyatt down.
After about 45 minutes, another woman approached Kinsey and said, "you look like you need a break."
The stranger ends up holding the baby for the rest of the flight, walks him over to baggage claim, and hands him over to Blake (Kinsey's husband). She then hugs Kinsey and wishes her a Merry Christmas.
"I couldn't believe how many people were just so willing to jump in and do things," Kinsey told WFMY News 2. "There's no way I would have made that flight without those three women, no way!"
The photo of the woman holding her 2-year-old son, in addition to her compelling story of how those three women stepped in to help, drew much praise on social media.
When Kinsey saw that her post was going viral, she decided to pay it forward by adding a fundraising campaign for Kidd's Kids to her post.
The program takes kids with life-threatening and life-altering conditions on a five-day trip to Disney World.
Faith in humanity will no doubt take a turn for the better when people start being considerate of one another. Those three women were angels in disguise sent to help Kinsey on that day.