This random act of kindness brought a homeless man to tears, and is a reminder to us all that sometimes all it takes to make a difference is a kind word, or in this case, a gift from the heart.
Craig Wells was eating in a restaurant in Nottingham with his family when he spotted a homeless man walking outside barefoot. Thinking how unfortunate this man was, he began comparing the man's life situation to his own.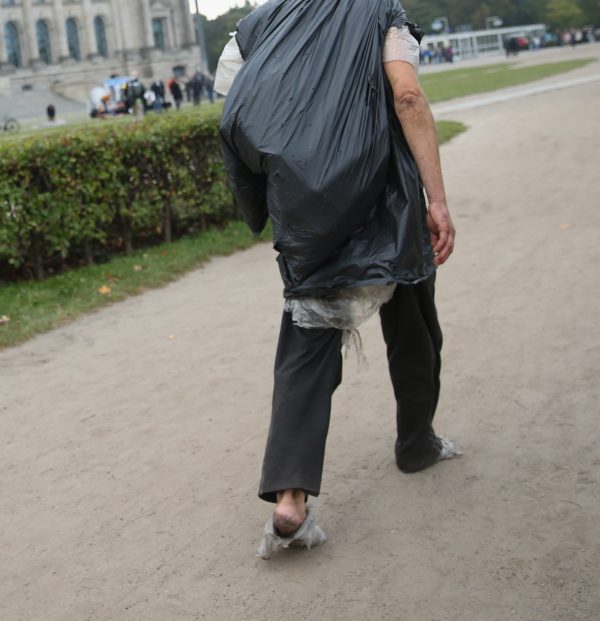 "He didn't have any shoes on and his toes were poking out his socks. It was awful to see," said Craig.
Craig felt compassion for him and went outside to talk with him. Craig wrote on his Facebook post, "He mentioned how he didn't have any shoes and that he would love a pair. I asked what size he was and he was exactly the same size as me. So I took my shoes (my favorite trainers) off and gave them to him."
He gave him his favorite pair of 120-pound (approx. US$158) Nike Air Max trainers—what an unselfish act!
The man started to cry and gave Craig a big hug, saying, "Nobody has ever been so kind." He then went around the corner, out of sight, put the trainers on, and came back, still crying.
When Craig left the restaurant, the man was still there: "We hugged again, made sure he had shelter for the night, told him he is loved and that we will be thinking and praying for him. We got emotional and parted ways. I then proceeded to walk around Nottingham with just my socks on until I could replace them," he shared.
While writing this post, Craig wasn't looking for self-praise as he put it. What he wanted was to spread the message of love.
He wrote: "What I do want is people to recognize that love is the greatest gift we have been given. It was given to us freely and freely we should give it away. So my challenge to you is this… How have you loved on someone today? Love is the best gift we can wish for, so pass it on!"
When someone sends you an encouraging message demonstrating the impact of what you set out to achieve.. This only works if we act like this guy below did today and PASS IT ON #lovewins #passiton

Posted by Craig Wells on Monday, October 16, 2017
Interestingly, Craig was in a restaurant named Wagamama, which in Japanese means selfishness and egoism. Craig had to move beyond selfishness and egoism to spread his message of love and compassion. What a beautiful arrangement!