Gyms are not for the faint-hearted. Cardio fitness, pumping iron, and generally staying in great condition are three huge reasons for attending, but that's not to suggest that the gym can't also be a site for kindness and compassion. Lisa Simpson, of Rhode Island, can testify to this: she recently saw a different side to her favorite gym facility and shared the heartwarming story on her Facebook page.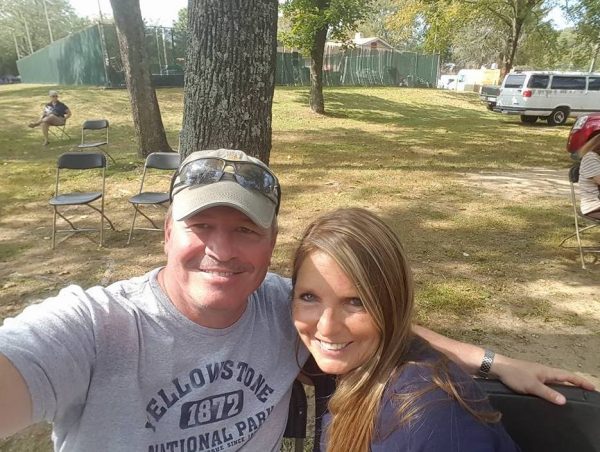 "I have a story that I would like to share with you all," Lisa began. "I know you will appreciate it and hold it dear in your heart, as I have."
One Monday, Lisa picked up her friend CJ and the pair drove to Planet Fitness on Diamond Hill Road for a workout. However, Lisa didn't notice until after the pair had arrived that CJ didn't have his sports sneakers. Lisa felt defeated: she had just driven from Burrillville to Woonsocket for the workout, and didn't have the time (or the gas) to make the return journey.
Feeling determined, the pair slightly compromised their normal workout routine and set off towards the gym equipment to try a lighter workout: a workout that CJ could manage in the wrong footwear!
"After a couple of minutes, a staff member came over and asked me CJ's shoe size," Lisa wrote. She was skeptical that anybody would find suitable replacement shoes in the "Lost & Found" bin, however, because CJ had unusually small feet. However, a short while later, Club Manager Daniel Cote headed towards Lisa and CJ with a shiny new sports bag in his hand: he had run out and bought a new pair of sneakers for CJ from an Olympia Sports store, just down the street.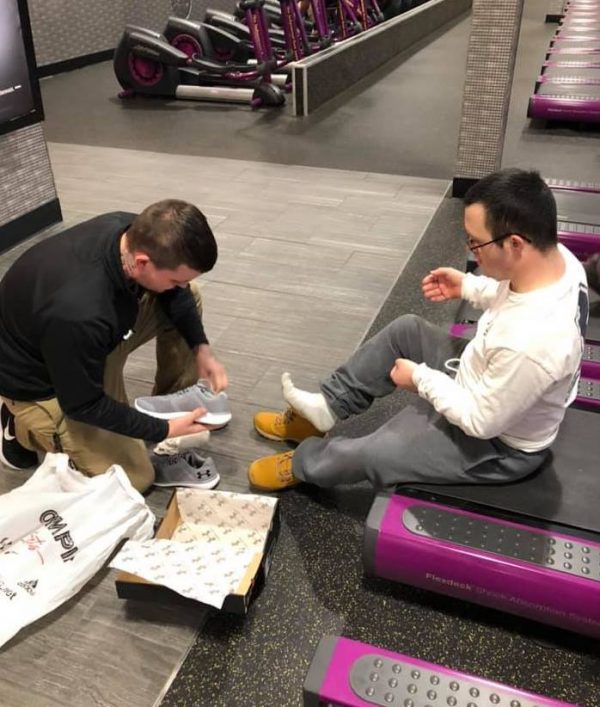 Daniel, speaking to Yahoo! Sports, shared his impression of the young man, who has Down syndrome: "I could tell from the start that CJ was a very energetic man that enjoyed coming to the gym to work out."
Lisa then posted a video of the touching encounter between CJ and Daniel, and CJ's sheer delight at the manager's kind gesture. "I cannot begin to tell you how in awe of this man I am," Lisa wrote.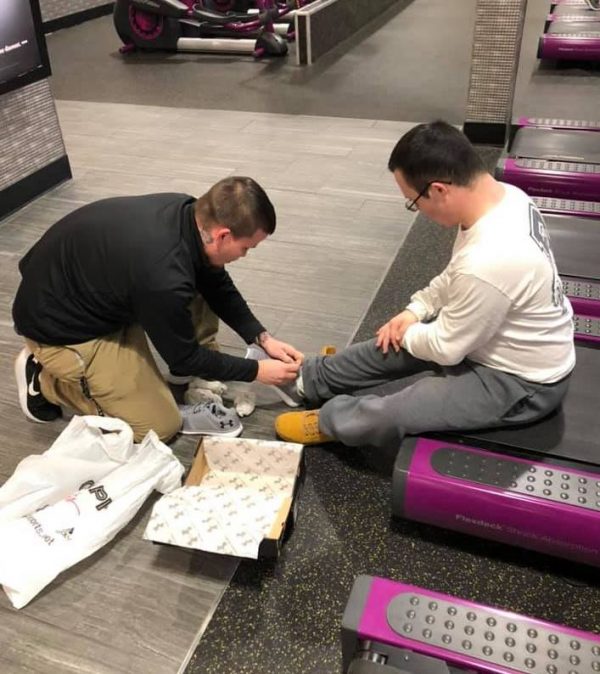 "I was having one of those days," she continued, augmenting her anecdote with personal details. Lisa had left home without her pocketbook, thus had no money, adding insult to injury when she realized that CJ was also without his sneakers. "I could not have bought CJ a pair of sneakers," she lamented. So it really was an extraordinary act of kindness when gym manager Daniel took the initiative.
"People like Dan restore my faith in mankind," Lisa wrote, "and he is the reason I will drive a little farther to the Planet Fitness on Diamond Hill Road." Lisa couldn't speak highly enough of Daniel and his thoughtful gift: not only had he reinforced Lisa's faith in the goodness of people, but both she and CJ are now "his biggest fans."
"This world is a better place with Dan in it," Lisa concluded, full of love and gratitude, "and I wanted you to know." Lisa's story caught the attention, and hearts, of thousands on social media. "Making a difference in this world … Beautiful, heartwarming story," wrote one reader. "What a wonderful man! The world needs more like him!" shared another.
A third one added: "This made my day, thank you for sharing. So sweet it's nice to see there are still people like Dan out there."
"I'm tearing up! CJ will remember this kindness always. Kindness does exist – we just have to let it out. How awesome!" a fourth one wrote.
After the overwhelming response of the post, Lisa commented: "Thank you all so much for your kind words. My hope is that this post will remind us all to be a little more like Dan! I know I will!"
We couldn't agree more. CJ got his workout, and the world is a little lighter for the knowledge of another good deed. Kindness is catching!
Lisa is a Respite Worker at the not-for-profit Seven Hills Foundation in Massachusetts and Rhode Island.
Share this uplifting story with anybody you know who needs a pick-me-up today!