Surprise, delight, and a million-dollar display of marital support shone at the Screen Actors Guild Awards ceremony on Sunday, Jan. 27. Emily Blunt and her biggest fan, actor and husband John Krasinski, all but leapt out of their seats as Emily's name was called up for best supporting actress.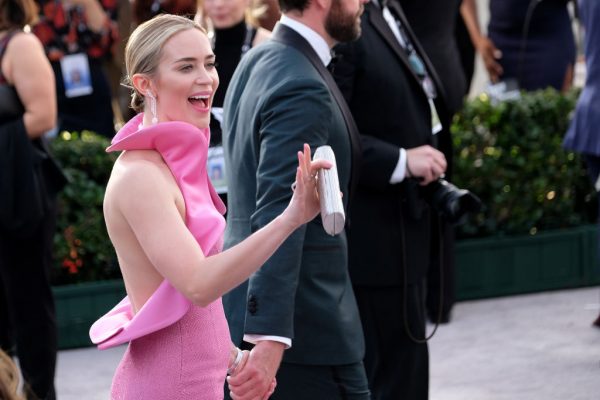 Husband John directed and co-wrote the movie A Quiet Place. It is Emily's first ever Screen Actors Guild Award. The audience of the Shrine Auditorium in Los Angeles showed huge support for the couple's extraordinary feat in making the movie, and for Emily's exceptional performance.
Emily (35), beat fellow nominees Amy Adams, Margot Robbie, Emma Stone, and Rachel Weisz to take home the much-coveted award.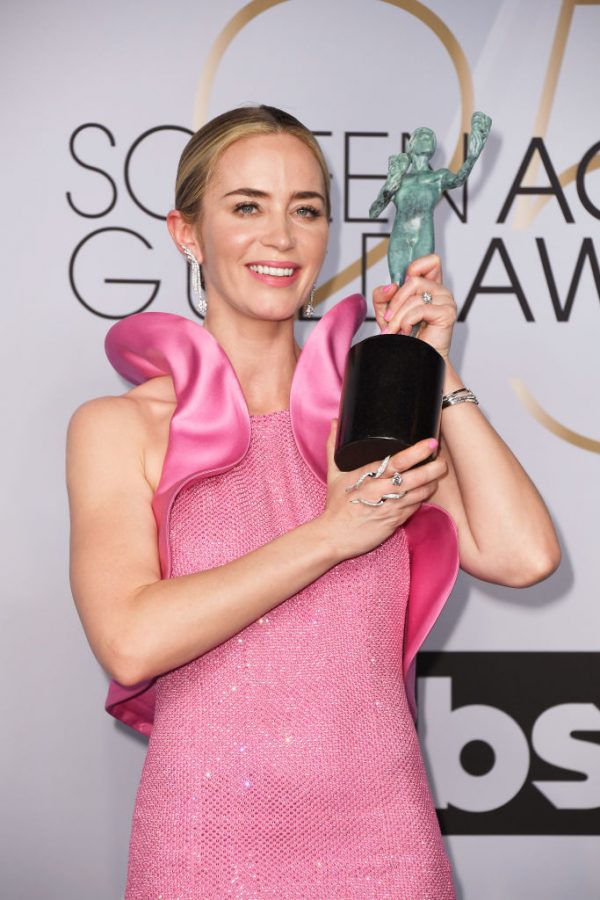 As Emily's name was called, the happily married, movie-making powerhouse couple turned to one another in shock. John covered his mouth as though he could barely contain his excitement, before embracing his wife. As the stunned actress left her table to walk to the stage, John was left reeling in his seat.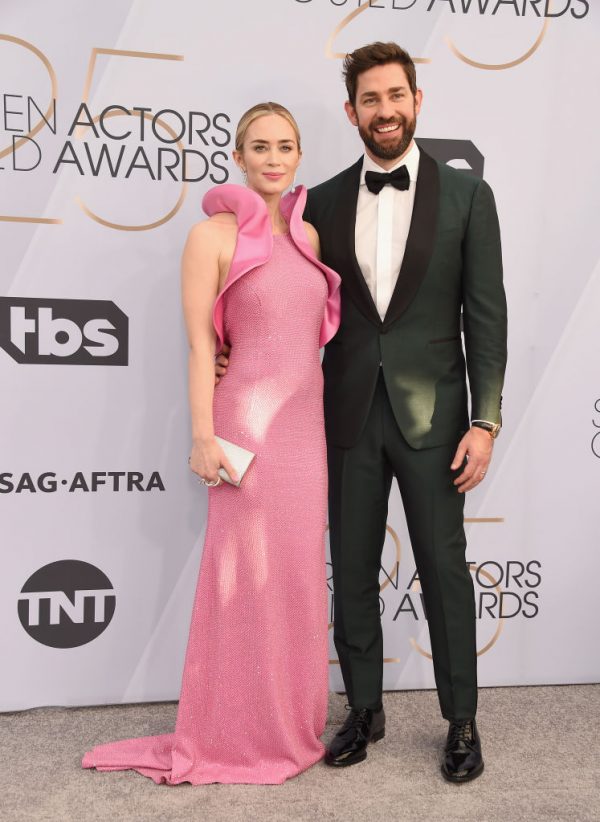 Emily's acceptance speech was characteristically eloquent, humble, and funny. Emily is certainly an actress that can maintain composure under the spotlight.
"That truly has completely blown my slicked hair back," the actress enthused, from behind the podium. "Thank you so, so, so much … I am going to share this completely with my husband, John Krasinski, because the entire experience of doing this with you has completely pierced my heart directly."
The audience was treated to footage of John, sitting with an expression of awe and pride, as he listened to his wife acknowledging the tremendous experience of filming A Quiet Place.
The film, which debuted in cinemas in 2018, depicts a post-apocalyptic horror-filled world in which blind, predatory creatures with an acute sense of hearing throw a young family into perilous danger. The film achieved widespread critical acclaim, including high praise for Emily's heart-wrenching portrayal of elemental fear, as a wife and mother living on the edge of existence.
Congratulations to the amazing Emily Blunt for her win at the Screen Actors Guild Awards for Outstanding Performance by a Female Actor in a Supporting Role for A Quiet Place.

由 A Quiet Place 发布于 2019年1月27日周日
"You are a stunning filmmaker," Emily addressed John, amid the audience. "Thank you for giving me the part. You would have been in major trouble if you hadn't. So you didn't really have an option, but thank you."
Emily revealed to Insider that after reading the script, she asked her husband to remove another actress from the shortlist so that she could take the role herself. "I really wanted to do it," Emily admitted. "John had already approached another actress—a good friend of mine—so I told him he had to ring her and sack her."
What refreshing honesty! And, ultimately, the decision to cast Emily in the role paid off.
Honored to be on the arm of this double nominee tonight! #SAGawards pic.twitter.com/cmMAMDFVpg

— John Krasinski (@johnkrasinski) January 27, 2019
Proud husband, and of course movie director, John delighted fans of the Hollywood pair when he tweeted a photo, captioned: "Honored to be on the arm of this double nominee tonight!"
We would be too, John. Congratulations, Emily! A very well-deserved award win, and a beautiful response from a loving and devoted husband.
Have you seen A Quiet Place yet? What do you think of Emily's win? We'd love to hear your thoughts in the comments section!