When St. Albans police responded to a shoplifting call at the local Kroger one day in December 2015, this officer never thought he'd end up rescuing a 14-month-old girl or taking on the temporary role of dad. Since then, a photo of him cradling the baby girl tenderly in his arms has been getting lots of love online.
Sergeant Philip Bass, the officer in the photo, and his fellow policemen were initially responding to a call over a shoplifting incident a little after 4 a.m. on Dec. 14, 2015, according to a press release from St. Albans Police Department.
While at the store, an employee suddenly told them, "Hey we've got a problem inside," WOWK reported.
A woman had locked herself in the store bathroom with a crying baby for around 20 minutes, and she could be heard screaming at the infant.
Sgt. Bass and his colleagues went to investigate and found 39-year-old Donnyell Harrison, from Tornado, and a 14-month-old baby, who was crying.
"[The baby] was sitting in a buggy with a baby bottle of Dr. Pepper," Sgt. Bass told WCHS-TV.
St. Albans officer takes care of baby after caretaker is arrested on drug charges.https://t.co/yKkBHyW0Ut pic.twitter.com/qopFcOV6iH

— WBOY 12News (@WBOY12News) December 14, 2015
When he asked why the tot was drinking Dr. Pepper, Sgt. Bass recalled the woman saying, "Well, I didn't have anything else to give her!" to which he replied, "Well, you're in Kroger!"
"With my kids, I couldn't imagine that happening to them," he told ABC7 Chicago.
According to police captain James Agee, one of the officers called to the scene, they noticed some "obvious signs of drugs" and "a lot of pills visible" in the bathroom.
The officers arrested Harrison onsite for drug possession with intent to distribute.
It turned out Harrison was not the baby's mom. The mother had been incarcerated in the South Central Regional Jail and had left the tot in the care of someone else, who ended up passing her on to Harrison.
So, the baby was brought back to the police station, where the officers purchased food and diapers for the infant, while a Kanawha County Sheriff's Deputy brought some small toys.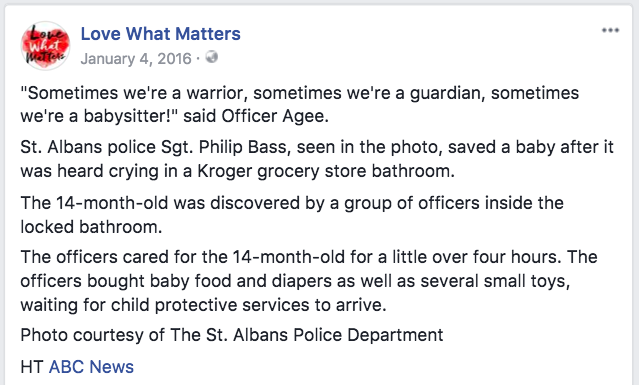 Sgt. Bass, a father of three, put his babysitting skills to good use, staying overnight at the station until Child Protective Services arrived sometime after 8:30 a.m.
The infant would be eventually placed into foster care, as the baby's mother was incarcerated.
"It's really heartbreaking, especially for that baby," Sgt. Bass said.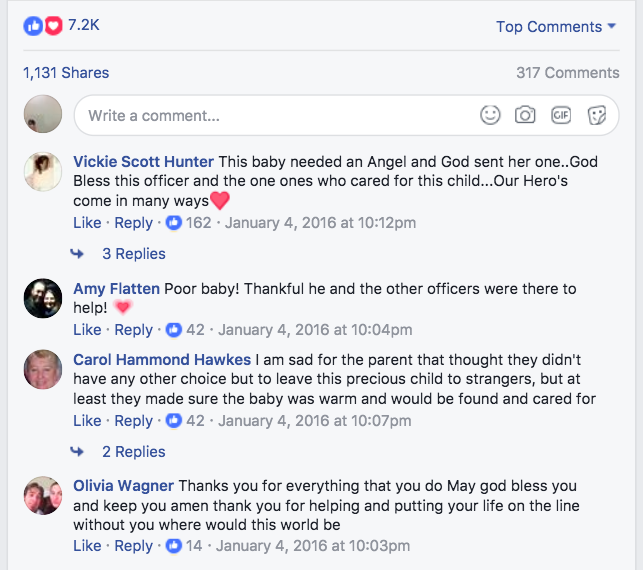 Ever since the picture of Sgt. Bass and the baby surfaced online, the department has been attracting praise online.
"This baby needed an Angel and God sent her one," one Facebook user wrote.
Another added, "That fatherly look and fatherly embrace, the baby food, diapers and toys tell a loving and caring story."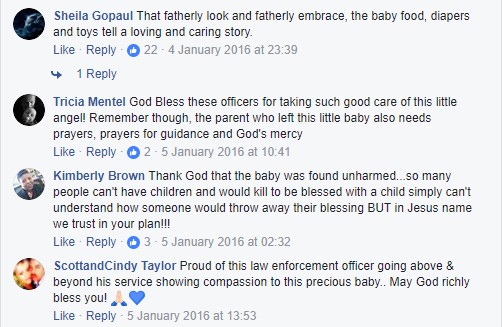 While some called these officers heroes, in Cpt. Agee's opinion, this is all part of the job.
"Sometimes we're warriors, sometimes we're a guardian, sometimes we're a babysitter!" said Cpt. Agee.
Kudos Sgt. Bass and the other officers for showing compassion to the poor infant. You guys are truly superheroes!
Watch the video: