North Carolina police visited a woman's home, where she was then arrested for shoplifting food. She said her three children hadn't eaten in three days, and after looking in her refrigerator, officers decided on an appropriate course of action.
The police had tracked her down by reviewing a surveillance video, and the woman, 44-year-old mother Theresa West, was then arrested on the charge of larceny. When the cops showed up at the door of her mobile home, she broke down in tears.
She then explained to Officer Keith Bradshaw and his partner: "I had to go out and steal food, and that's desperate. And I'm sorry for doing what I did, but my kids were hungry." Neither she nor her children had eaten in three days.
As West had suffered a brain injury, she could not work. She had reached out in vain to organizations, such as Interfaith as well as churches, for help before deciding to shoplift.
"We called the churches and everything and everyone was like, 'We go through Interfaith Council, we go through this and go through that,' and nobody would give us anything," West told WRAL-TV. "We had nothing."
West was taken into custody. However, both Bradshaw and his partner decided to step in and help the poor family. They went to the grocery store and bought $140 worth of groceries, with which they filled her fridge.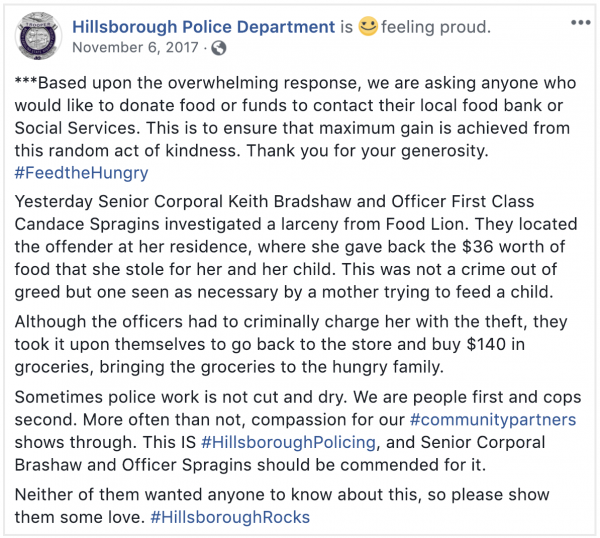 After West made bail and went home, she was brought to tears by what they had done.
"It was just a lot of hugging and crying from her and thankfulness," Bradshaw said.
"Sometimes police work is not cut and dry," wrote the Hillsborough Police Department on their Facebook page. "We are people first and cops second."
"Sometimes you gotta go that extra mile and look for other ways of helping and improving your community and the quality of life for the people in the community," said Bradshaw. "And if that improves her life a little bit and it helps her, I will do it again tomorrow."
Watch the video below:
Two police officers bought $140 worth of groceries for a Food …

After three days without food, Theresa West acted out of desperation by stealing $34 worth of groceries from Food Lion on Saturday. Police soon came knocking as she was cooking the stolen spaghetti. Hillsborough police officers Keith Bradshaw and Candace Spragins charged West, but returned later that evening with $140 worth of groceries from Wal-Mart.

اس پر ‏‎The Herald-Sun‎‏ نے شائع کیا بدھ، 8 نومبر، 2017