For adding an unconventional charm to his love story, one man had his own spin on an engagement proposal. He planned everything down to the last detail—did we mention the 16 dogs he had invited along?!
Maurice Goldstein is definitely a romantic at heart, and when he decided Laura Stampler was the one for him, he wanted to propose in a way she would never forget.
With the sun setting over the canyon, 16 dogs wagging their tails, an acapella to create music by singing Disney songs, and of course, a beautiful ring by a handsome and doting fiance, what more could a girl ask for?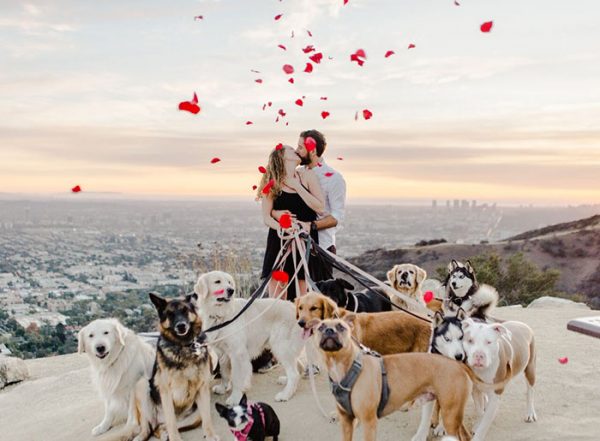 On the pretext of taking Stampler on a short hike up Runyon Canyon in Los Angeles, Goldstein had her fooled until the rose petals made an appearance. However, she had an inkling this was no ordinary hike.
"I saw the rose petals and I mean—you know. I just started bawling pretty uncontrollably," Stampler told Elite Daily. Goldstein got on a bended knee and popped the question.
"When I said yes, all of a sudden all of these dogs start running out," she exclaimed.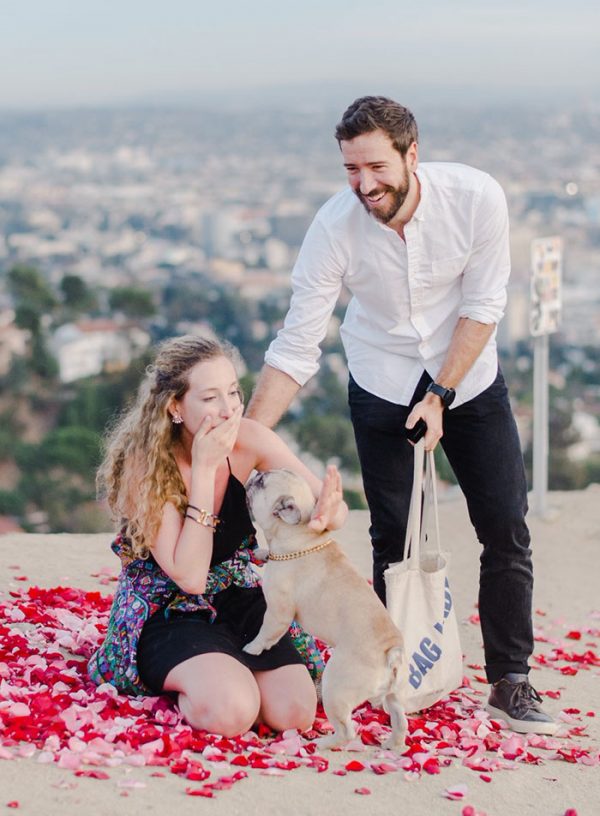 Sixteen, to be precise, albeit very well behaved pooches. "Tony, a friend, was able to round a bunch of dogs together, and made our day incredibly special," said Stampler.
Goldstein and Stampler are both dog lovers. Stampler is the author of a book titled Little Black Dresses, Little White Lies, in which she has demonstrated her love of dogs.
"[In the book,] there's an assortment of dogs and weird dog-related events," she said. "Like a pug prom. And a Bark-Mitzvah."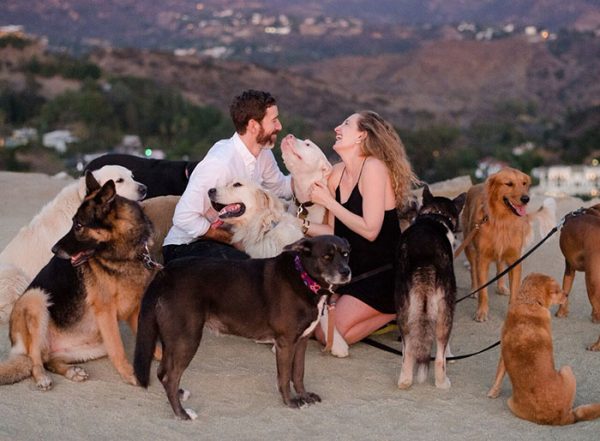 Goldstein knew that the dogs would play an integral part in his proposal to give it that extra-special touch. No surprise he was on the mark, as Stampler just loved it.
"Maurice's family's German shepherd Scout (who unfortunately couldn't be there due to some hip issues she's recovering from) has been running with a pack of dogs off-leash in the California mountains, led by Tony Vercillo for years," said Stampler.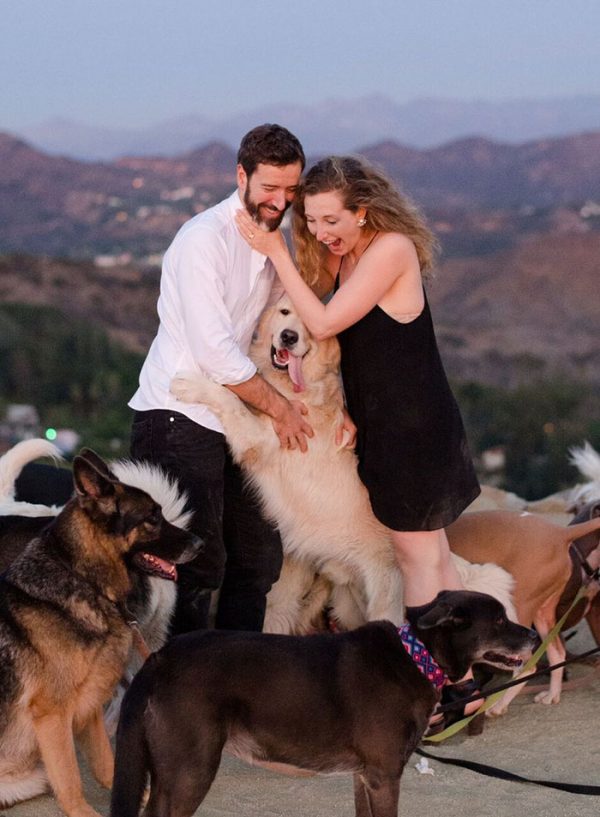 The couple from New York have been dating each other for the last four years, and are surely meant to be.
Rebecca told Bored Panda, "I always felt drawn to him—in the back of my head, I knew that we could be really compatible."
Stampler's friends were in on the act from the word go and were able to help Goldstein carry off his proposal in the most perfect way.
"He had actually consulted my friends for different parts of it! They are all such good liars," said Stampler to Elite Daily.
"Although some wondered if there were too many elements during the proposal (a capella, hike, rose petals, loose dogs?) Maurice executed it perfectly. (He even hired Task Rabbits to park in front of the hike trail to save spots for people who were involved.) It was all incredibly meaningful and we then celebrated with both of our families at a restaurant after."
Goldstein was able to enlist the help of Stampler's best friend, professional photographer Rebecca Yale, who did an absolutely fabulous job with the shots.
Without a doubt, this is one of the most beautiful engagement proposals you will ever come across.
Watch the video of the beautiful "fairytale" experience unfold in full effect:
At first I thought Maurice — the guy who surprised me with a 5k-race on a date night six months into the relationship… — just wanted to squeeze a strangely timed, "easy" hike through Runyon Canyon before drinks with friends. It wasn't until I saw the rose petals that I knew it was more. Like, a lot more. From the a cappella choir singing Disney (you can kind of hear "Kiss the Girl" over my hyperventilating!) to releasing a pack of 16 dogs after I said/sobbed yes (because dogs > doves), from giving the stone my grandpa gave my grandma a new life to bringing in one of my best friends to photograph (and one of yours to throw flower petals and take the video below), I can't imagine anything more magical. I love you, Maurice. For this and so, so much more. And now, in case anyone wanted to see me literally sob while and attempt to hug every dog, our proposal video:

由 Laura Stampler 发布于 2018年11月29日周四