Meet Isaiah Acosta, of Phoenix, Arizona, whose passions include rap, music, and poetry—something he had hoped to use to get into a music career.
"I connect with rap—I enjoy the energy of it," he said, corresponding with PEOPLE.
His only setback? He has no way to speak.
View this post on Instagram
Acosta was born without a jaw or a pathway for oxygen, meaning he has no voice, no way to eat, and requires a tube to breathe.
His condition is known as situs inversus, and it was expected at birth to be fatal. He was deprived of oxygen because of it for the first 15 minutes of life, and the doctors told his mother that survival wouldn't be easy.
"He'd gone without oxygen for 15 minutes and I was told that even if he made it, he wouldn't have any quality of life," said his mother, Tarah.
"But he's a fighter—and even though he can't speak, he can think and hear just fine."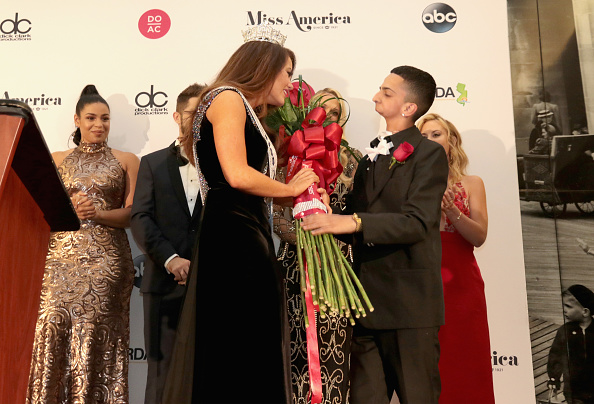 It's a unique obstacle for someone who wants to get into the rap industry, that's for sure.
Despite his limitations, though, Acosta is determined to make waves using lyrics he's written throughout his life. The teenager wants his voice to be heard—even if he, physically, isn't the one who is able to speak what he pens.
That's where rapper Trap House comes in.
The artist, whose real name is Tikey Patterson, lent his voice to Acosta, rapping the teen's lyrics for him to then visually perform on stage.
It's an incredible way to get around an obstacle that most wouldn't even consider being able to get past. And best of all, Acosta uses it to raise awareness for others in his position, rapping about his condition, the challenges he overcomes, and helping to promote donations for Children's Miracle Network Hospitals.
"Music has changed my life and now (with help from Trap House), I feel like I'm helping people with no voice," he explained.
View this post on Instagram
View this post on Instagram
Acosta gets heavily involved in his own songs, although his voice isn't the one being used on the track.
According to Trap House, Acosta was the overseer for the production of his songs from essentially start to finish.
In addition to writing the lyrics for the song they recently recorded, "Oxygen to Fly," Acosta was heavily involved in laying down the track and picking the beats.
View this post on Instagram
Trap House was amazed.
"He picked the beat and he picked the production—I wanted the end result to be what he envisioned in his imagination," he said. "With rap, you always hope to be able to speak for the voiceless."
View this post on Instagram
Trap House and Acosta went on to collaborate on a few more songs.
"I will be part of his situation for as long as he wants to use me as a voice," Trap House said. "I hope that we continue to make music that inspires people to keep living, keep growing and not let anything hold them back."
Sadly, Trap House passed away on Jan. 18, 2019, after losing his fight against pancreatic cancer.
"We took over the world brother 🌍 it's time for you to rest now love you forever," Acosta wrote on Instagram. "I'm gonna keep going hard for you."
View this post on Instagram
As one would expect, Trap House's passing didn't stop Acosta from making his voice heard.
"Trap House did tell me he didn't want me to stop. He wanted me to keep going," Acosta, who graduated from Apollo High School in Arizona in May 2018—a major milestone that doctors deemed he might not reach—said at an event, according to Arizona Republic.
"I came a far way to let it all go."
Acosta is even more determined to fulfill his mission—to give back and give hope—in addition, he now strives to help keep Trap House's legacy alive.
"I'm going to keep his legacy alive, continuing to share our story, to share kindness," said Acosta, 12News reported.
The duo still has one last rap song that has yet to be released.
Acosta is not the kind of rap artist you'd expect to see take the stage. But for the teen, his words deserve to be heard, and he's found an excellent way to make sure that's possible.
Watch the video here: