A GoFundMe campaign for a lost little boy has been named "Casey and the Bear." It sounds like the stuff of fairytales, but it was no fantastic experience for 3-year-old Casey Hathaway, the boy who was lost in the woods for two days and nights, all alone.
The little boy from Wilson, North Carolina, went missing from outside his grandmother's house on the evening of Tuesday, Jan. 22. Mercifully, he was found alive two days later. He had managed to survive freezing temperatures and heavy rainfall but claimed that "a bear" had kept him safe and warm.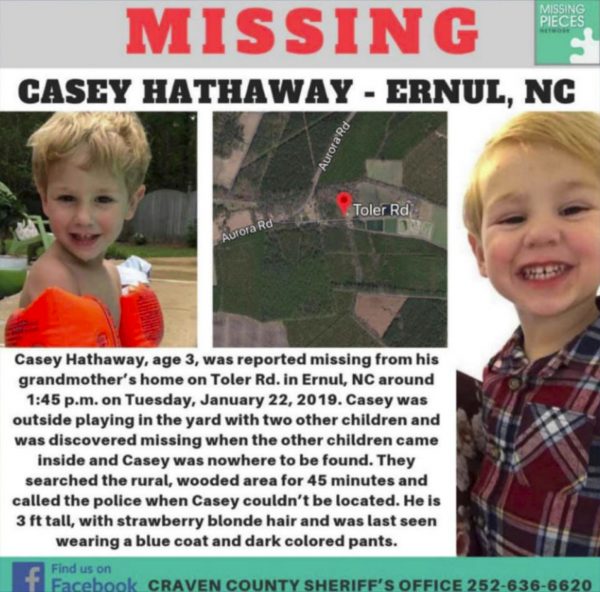 Casey wasn't gone for long before his panic-stricken grandmother raised the alarm. Professional search teams comprising members of the FBI and U.S. Marines searched high and low. Concerned volunteers from the local community even joined in to aid the search.
Despite frigid temperatures and rocky terrain, nearly 600 volunteers looked for Casey as per ABC affiliate WTVD. 
"The terrain was woods. It was thick in places," said Max Dudley, a volunteer. "Some places it wasn't that thick, but we took our time and you see the next person, and you look and you look and you look."
Casey's family themselves were instructed to hold tight and wait for updates. On the second day, a neighbor heard crying whilst out walking her dog, and shortly thereafter, a distressed Casey was found. He was tangled in thorn bushes about 35 meters from the side of the road.
When Casey's mother, Brittany Hathaway, got to know that her son was alive, she told Inside Edition, "I don't think there's a word to describe how happy I was."
"I wanted to go home," Casey added.
Casey was, of course, rushed to hospital, but upon medical inspection he appeared to be just fine. The little boy had escaped with no more than minor scrapes and bruises. To create a comforting environment for the young boy after his ordeal, Casey was treated to his favorite food, chicken nuggets, and his favorite TV show, Paw Patrol.
Casey's family were beside themselves with relief, as were authorities and the local community. However, many were simultaneously perplexed by Casey's ordeal and the intriguing detail of the benevolent bear.
Casey's grandmother set up a GoFundMe account to help pay for Casey's medical bills shortly after the boy's return. "All funds raised will be used to make sure Casey is healthy, comfortable, and safe after enduring this traumatic experience," Casey's "Memaw" wrote.
"He told us that his best friend the bear was with him to help keep him safe," she continued. Maybe the benevolent bear is a real figure, after all?
Craven County sheriff Chip Hughes told WCTI: "He didn't really get into how he was able to survive and all that. He did say he had a friend in the woods that was a bear that was with him."
However, Casey's Memaw may attribute her grandson's safe return to a higher power: "Thanks to God's mercy he came home to us alive and well."
In 1888, a 2-year-old girl claimed to have slept by a bear for warmth after being rescued from an overnight disappearance. The story was featured in the New York Times.
In 1955, another 2-year-old went missing in Kootenai National Forest, Montana. The poor little girl suffered through two days and nights of pouring rain but said that a bear had comforted her and kept her safe.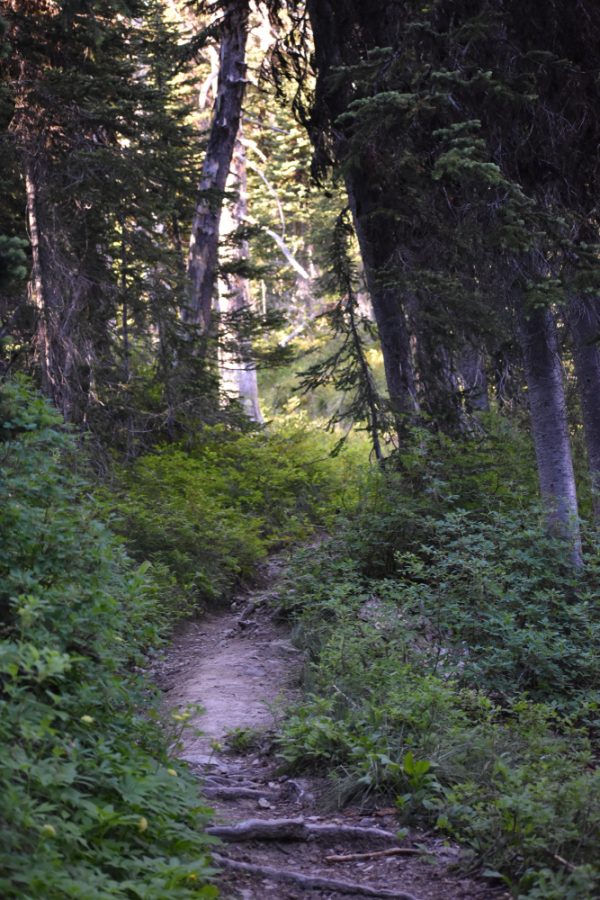 The synchronicity between the ages of the lost children and the descriptions of their bear-like protectors is rather uncanny.
We can only hope that little Casey is able to wear his extraordinary ordeal as a badge of pride in the future. Being rescued by a bear is a real-life fairytale, and no mistake.
What do you think of Casey's ordeal? Join us in sending your thoughts to Casey's family, and little Casey, who certainly has an amazing story to tell!